Keep the summer cycling going with our mobile or in-store appointment only service.
JULY 13, 2020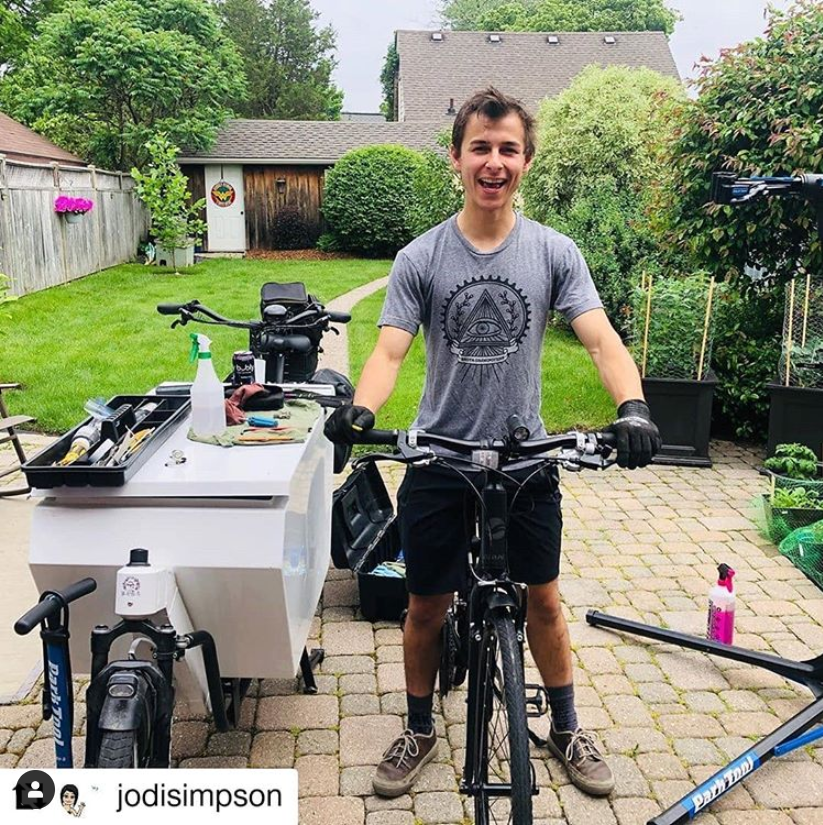 Let us come to you (by cargo bike of course)! Book your physically distanced tuneup in your driveway, or on your patio. We'll keep your bike rolling smoothly, and let you make "one less trip".
This post is a quick update on our operations as Ontario moves into Phase 3 of re-opening. Here's how we're adapting as the province opens up a little more. We still have a good selection of bikes, but certain sizes/colours are starting to dwindle (with no restocking date in sight for most brands - what's on the web store is what we have available).
Our operations day-to-day are not changing. You must have an appointment for all bike sales/service needs. Test ride bikes are sanitized before/after you ride, keeping things clean and safe for you, and for us. Doing service by appointment means people who book repair service have enjoyed short turnarounds (less than 24 hours) for 95+% of our service appointments. Major repairs have been a different story, as sourcing parts has been difficult from some (but not all) suppliers. Thanks for your patience for the handful of you who have had your bikes here for longer. Book your appointment here.
On the other hand, there will be no walk-in service for the remainder of 2020. Yes, even for flat tires, and yes, even when your bike is in front of the store. No appointment, no service. The appointment calendar is how we limit the number of people we see, and control our exposure to Covid. Book your appointment here.
We are offering Mobile Service Appointments, where we come to your driveway (on a cargo bike, of course!) and repair your bike. For most minor repairs (tune-ups, brakes, flats, new fenders, racks, new tires) This service has been so popular with our customers we haven't even posted about it very publicly yet. It's awesome, go book your service now! Book two adult tune-ups and get one kids' tune-up free!
If you buy something from the web store, you can pick it up curbside without an appointment between 10-5 Wednesday to Saturday. Just knock on the door, as it will be locked when you arrive. We encourage you to choose ZEDS Courier as your delivery option for all web store purchases.
Rosso Coffee beans are available for delivery to your front door once-per-month (guaranteed to get what you want), or by pickup in store (super limited selection). This summer is a great time to experiment with new brew methods, too. Check out our Cafe accessories for some exciting new brewing techniques! Espresso bar continues to be suspended until further notice.
That's it, that's all from us. Keep riding, and enjoying the summer sunshine!