Some "sneaky" bicycle routes through London, Ontario - always looking for contributors!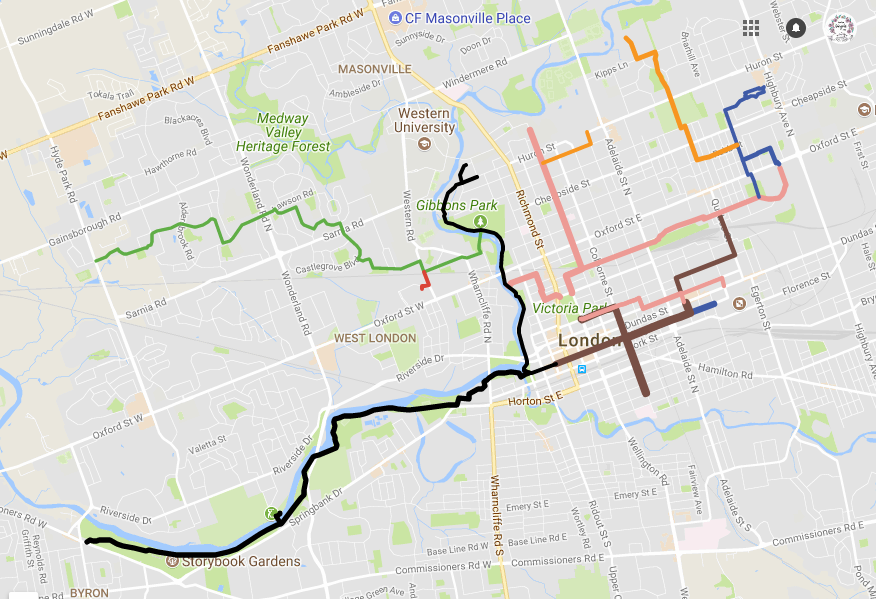 This weekend I was introduced to a secret bike resource in London. "The Bird Routes" are a sneaky-safe way to get around the city, and reach important destinations. These routes avoid the infrastructure-deficient main roads, and make for a much more pleasant ride throughout the city by making use of quiet residential streets. These are different routes than what are published by the City, and in most cases, we think they make more sense than the official routes (which aren't signed at all). An added benefit is that the Bird Routes let you explore different neighbourhoods of the city than you might normally see from your car, or on transit. This is an incredible resource that can help people use their bikes more often in the interim, while the City decides whether or not developing safe bike infrastructure in your neighbourhood is a priority.
One of the best features of the Bird routes is they get you to key destinations. Need to get to Huron and Highbury (groceries, big box, dollar stores) on a bike? These routes can get you there. What about getting your passport renewed at Cherry Hill? There's a way to get there, too. The Bird Routes are great because they're generally laid out on safe, quiet streets, with little traffic. Using this resource requires a bit of wayfinding, especially in the grid-less west end, but can be worth it for the added comfort on the ride. A smartphone mount for your bike can be a useful tool to access these routes, and to make sure you're on track (we usually have these in stock, if you're looking for a Christmas present!), but with a little practice, we think you'll be able to navigate these streets with ease. The Bird Routes aren't always the most direct, but they are often the most comfortable rides in the city. They have picked some of the safest places to cross major streets, which makes them particularly valuable. They are well-signed in some places (although some signs have been removed), and the signs give you a sense of how quickly you can get around on a bike.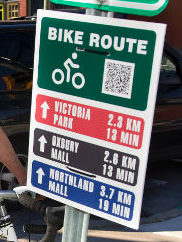 What's even more intriguing is that the Bird Routes are incomplete, so we're going to pick up the torch and try to expand them City-wide. If you're interested in helping to map this project, or fund its development, we're looking for a crack team of 3-4 people with some specific skills in maps and local area knowledge to help lead the expansion, and about $2500 in donations for printing (crowdfunding site coming soon). Please e-mail us if you're interested in contributing your time or money to this fantastic project. We hope by expanding this resource, we can connect Londoners to important places like schools, community centres, and shopping areas by bike, and by doing so, help you use your bike more often.
ps - in case you're wondering, the routes were designed by Jeremy Bird, after whom we decided to name the entire route system. He deserves much credit for his vision and logical approach to tackling a big problem in cities that have been designed to exclude the bicycle from their main streets.