What we have in store for you in this new decade.
Wow I can't believe it's been this long! We opened our doors in 2017, making this year our fourth year of operations (yes, I had to count like this: 2017, '18, '19, '20). If there is one word that describes my goals for the store this year, it's "refinement". Refining the store's operation means getting back to basics, and focusing our offerings on a few core items (while still doing specials orders and custom projects like we always do). The core of what we do is bicycle transportation, and I've tried to remember that when planning the year ahead.
Since my daughter was born this past September, my life has changed quite a bit. She's now a nearly four month old little girl, with personality, a cheeky smile, and so much curiosity for the world around her. We're smitten to be sure. While she's been napping, I've been spending some time thinking about why I wanted to open the store, and who I was hoping to serve. My core idea of serving London's transportation cycling community, and growing cargo bike community I think were spot-on, and we'll refocus on these areas in 2020 and beyond. The espresso bar is back, after too much construction downtown last year, we'll open the bar again a couple days a week starting in February.
Here's what to expect from us in 2020
Focus on Transport
Going forward, the bikes we feature will have a consistent set of features: lights, fenders, a luggage carrier, a bell, a chainguard, and a kickstand. Some have built-in locks, and others have dynamo-electric generators for always-on lights. These features are all standard-issue in European markets, and we're going to fully commit to maintaining that standard in 2020 and beyond. What we've done this year is curate a selection of quality bikes at every price point to help you start or continue your bike habit. Here are the six core bikes that make up most of our offerings for 2020:
$699.99 - Pure Cycles City Step Through & City Classic. Beautifully designed, comfortable Dutch-style city bikes, with everything you need to get started. The Pure City is our all-time best-selling bike for good reason. It's easy to use, feels fabulous to ride, and doesn't require a lot of maintenance. Plus it looks amazing! Colours for 2020: Black, Cream, and Mint.
$850.00 - Breezer Downtown series: Roadster and Mid-Step. These chromoly-steel city bikes are tomorrow's classics. Gorgeous design, built to last, we've started calling the Downtown the "London Bike." It's simply ideal for our city. Available in limited quantities in 2020: what's listed on the website right now is all we're getting for the whole year!
$1099.99 - VSF Fahrradmanufaktur T-50. The lightweight aluminium framed offering from Fahrrad comes standard with a Shimano Nexus 7 Internal Gear Hub, dynamo lighting, and more quality features only found standard on European-built bikes. Its lightweight configuration and perfect geometry makes it an ideal commuter bike for city use. Fahrrad is new to the North American market, and we're one of a handful of stores continent-wide to get in on this amazing (and established) European brand. Made in Germany.
$1599.99 - VSF Fahrradmanufaktur T-100. This bike is probably the nicest machine I've ever assembled at LBC. It gets all the details right, which makes it a dream to ride, and easy and inexpensive to maintain. The T-100 is designed to go further, with fully adjustable geometry that allows you to dig in a little to climb a hill, or enjoy taking "the long way home" on a sunny spring afternoon. It's available in two hand-crafted chromoly steel frame styles: mid-step, and roadster. Demo models available. Made in Germany.
$1799.99 - Gazelle Tour Populair. Over 125 years old, the Gazelle Tour Populair won over the hearts of the Dutch and birthed Amsterdam's bike culture. The eye-catching design is a classic, and the black glossy paint gives the bike a clean and simple feel that is ageless. Made in The Netherlands.
From $1795.00 - Brompton Folding Bicycle. Brompton is changing how people experience cities, and travel around the world. Lightweight and durable, with a simple folding mechanism, this bike is designed for your lifestyle. Folded it fits under your desk, or in a closet, making bike theft a concern of the past. It's simply the best folding bike available today, anywhere in the world. Free 24 hour demo rides available, free shipping to anywhere in Canada. Made in London, England.
Expanded Electric Offerings
Last year we piloted Royal Dutch Gazelle's e-bike line, and we were SO impressed. Gazelle has been in business for more than 125 years, and they know a thing or two about making great bikes. The entire e-bike lineup from Gazelle is perfectly designed for transportation. They make hills flat, headwinds calm, and heavy loads featherlight. Equipped with Bosch and Shimano drivetrains, and warrantied for five to ten years, these bikes are designed to keep you moving for the whole decade. Sophisticated design choices let you look great while riding, dress for your destination, and do more on a bike than you ever thought possible. All of these bikes are made in The Netherlands.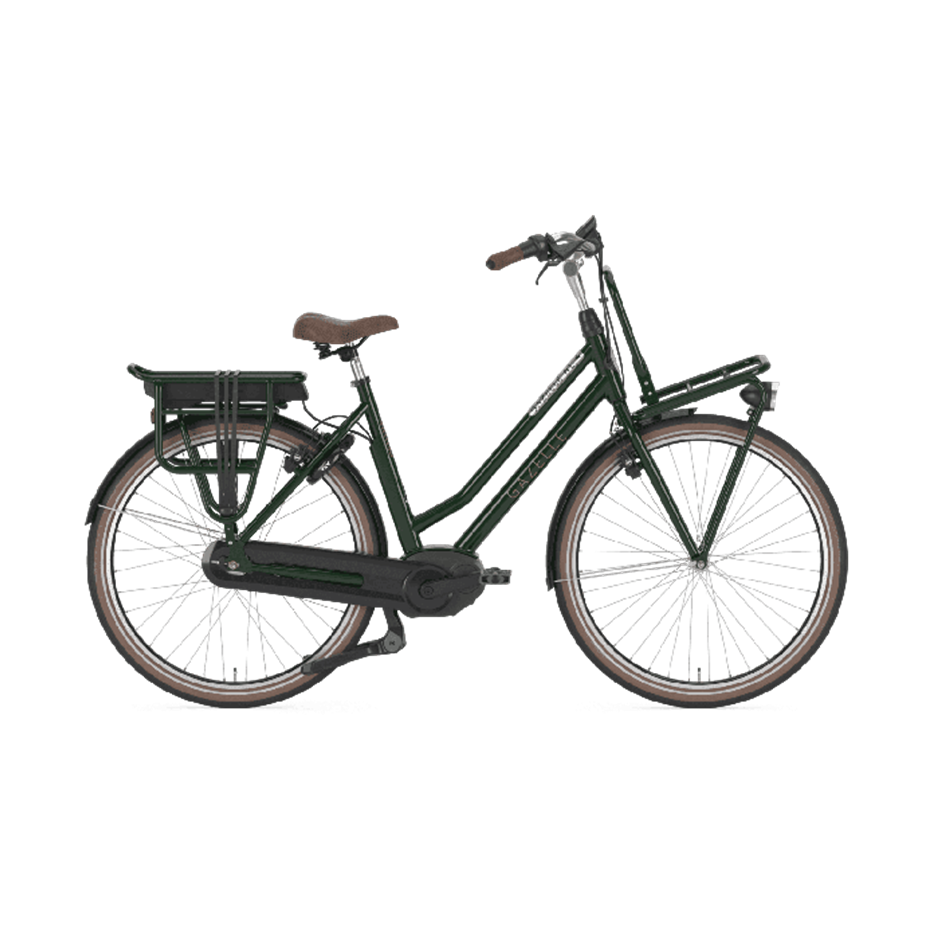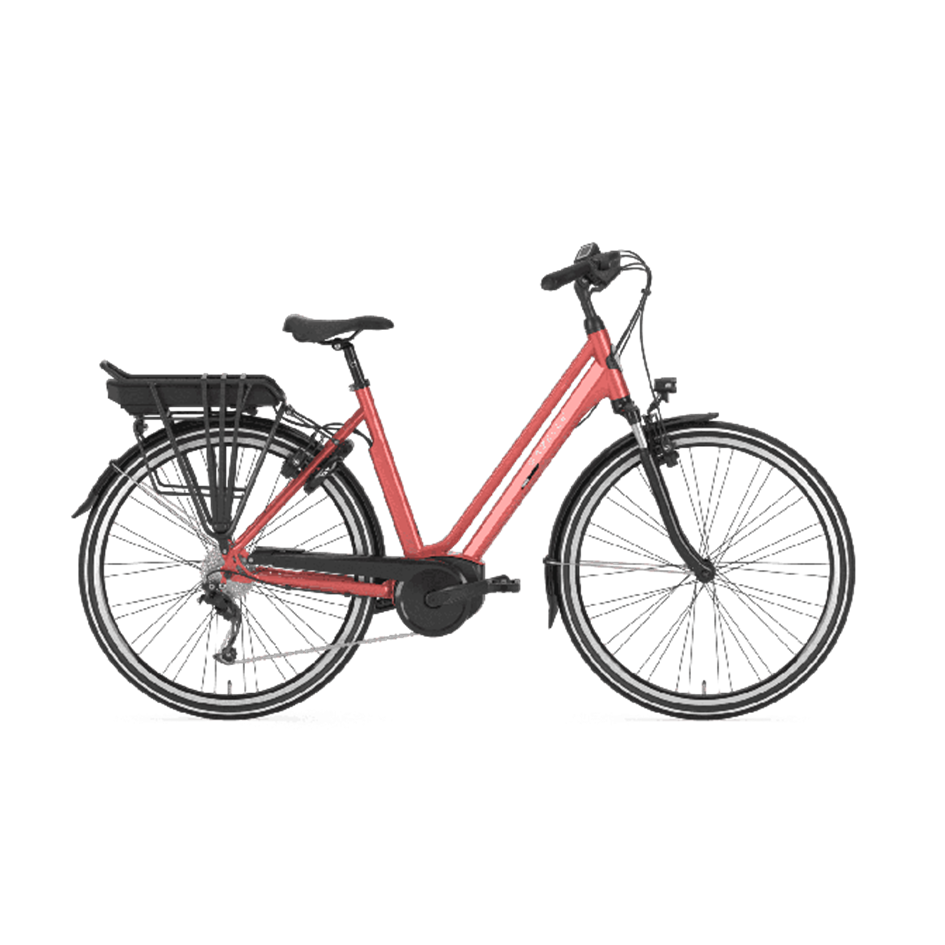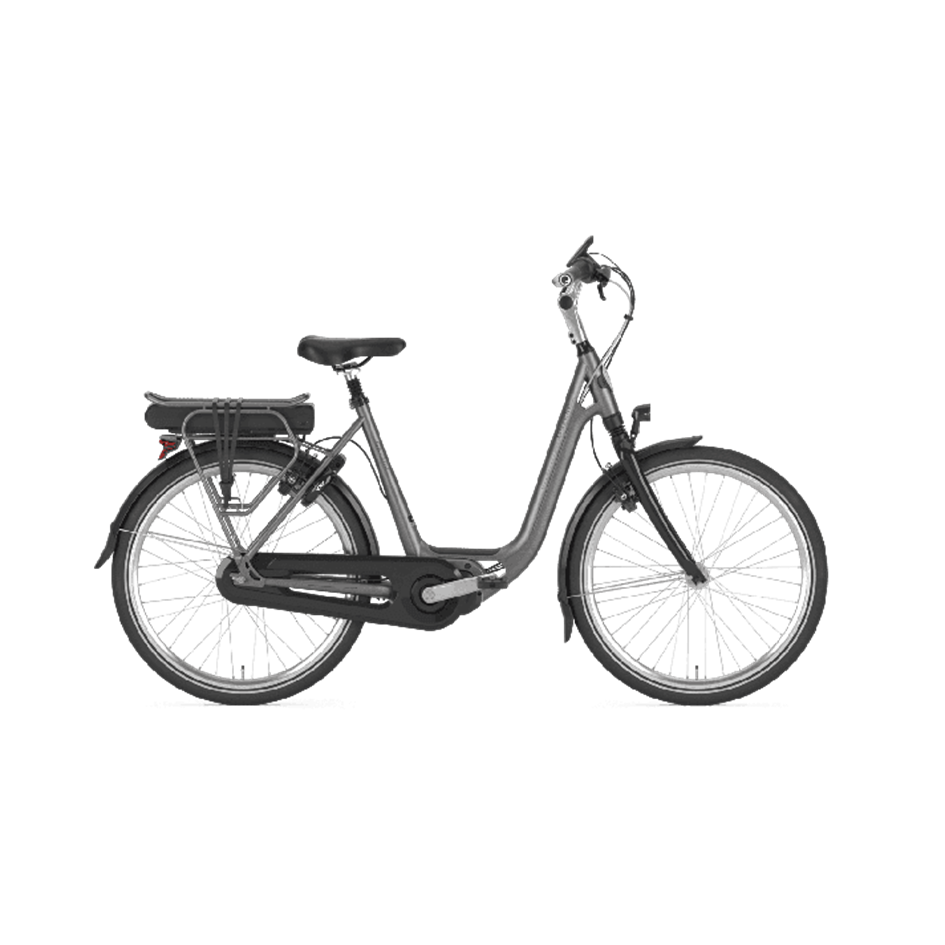 Cargo Culture
Cargo bikes have always been part of our core mission. We've doubled the number of cargo bikes on London's streets every year since we opened, and are optimistic for another doubling in 2020, with family mobility in a carbon-constrained world on our minds. We're very excited to introduce the spectacular Babboe Carve to our store this spring (demo available!), while maintaining our offerings from Nihola, Xtracycle, Larry vs Harry, and the T-50C, "the little cargo bike that could" from VSF Fahrradmanufactur. Come experience how your family could get more mobile this spring with a nimble and easy-to-ride cargo bike!
Espresso Bar Returns
I'm particularly excited about this. It's been too long since the store felt warm and cozy with the smell of freshly ground beans. The espresso bar will re-open in a simplified way in 2020. We're doing away with drip coffee entirely, and focusing on specialty drinks. If you normally order a drip coffee, "Americano" is your new favourite word! Every drink we make is also available with premium decaf beans that I think is the best cup of decaf I've ever had every time I drink it. Here's what to expect up front at the bar:
Espresso bar will operate on walk-in days only. Friday and Saturday only until Easter, Thursday-Sunday afterwards.
Lower prices for coffee, with pay-per-cup takeaway options. To encourage the use of reusable mugs (and to encourage you to make use of our space), we've separated the cost of disposable cups from the cost of coffee. Prices for coffee: Americano ($3.10), single origin Pourover ($3.54), and Latte/Cappuccino/Flat White ($3.98). Six delicious varieties of loose leaf tea will also be available for $3.10. A compostable takeaway cup with a sleeve will be charged $0.44 each.
Oat Milk! We're switching entirely to Oat Milk as our non-dairy option. +$0.88 per drink. Our standard drinks are all made with 3.25% whole milk for the creamiest quality in your latte, whether you choose dairy or non-dairy.
Snacks will be available in limited quantities, and when we sell out, we sell out! We'll source from some of our old favourites to start the year, and I'm hoping for a couple new special guest bakers to appear, too! We won't continue to offer lunch or sandwiches, just great cups of coffee and a little treat.
New menu of fresh coffee from Rosso. Coffee changes with the seasons, and we've entered prime time for Central and South America. Zoila Teresa Aguilar is back in season, as is our new favourite, Sumava Honey.
Hours of Operation
In case you missed it, this fall we operated some days as "walk-in" and some days as "appointment required". The mix of hours worked well for most people, especially the vast majority who enjoyed same-day service on appointments for repair service. This mix will continue into the spring/summer, under the following (tentative) schedule. Service prices have been tweaked a little bit, including discounted rates for internally geared bike tuneups. When there's no messy gearing, it makes maintaining your ride that much easier. Here's the new schedule:
February 1 to April 10 (Good Friday)
Tuesday, Wednesday, Thursday: bikes by appointment, espresso bar closed
Friday: 10-3, bikes open, espresso bar open (join us at the Fridays for Future Climate Strike at City Hall from 3-5pm)
Saturday: 10-5, bikes open, espresso bar open
Sunday & Monday: Closed
April 14 to Labour Day
Tuesday, Wednesday: bikes by appointment, espresso bar closed
Thursday: 10-5, bikes open, espresso bar open
Friday: 10-3, bikes open, espresso bar open (join us at 3pm for Climate Strike)
Saturday: 10-5, bikes open, espresso bar open
Sunday: 10-5, bikes open, espresso bar open
Monday: Closed
There's lots in store for 2020, and together we can help make the '20's the decade of the bike here in Southwestern Ontario. We can't wait to help you and your family ride more often this year!
- Ben