What can you do with a cargo bike? Which one is right for your family?
The Tern GSD will help you get stuff done. Carry two kids and haul a week's worth of groceries!
The Cargo Revolution is Here!
If 2020 was the "year of the e-bike" in London, 2021 is shaping up to be the "year of the cargo bike." Our 2021 Cargo Lineup is set, and we're thrilled to offer many of the world's leading brands. Supporting these magic machines is a big part of how we help your family leave the car at home more often, and help you have more fun getting from A to B, too!
This special preview is to encourage you to imagine, plan, and pre-order your family cargo bike. We're expecting the 2021 season to be unlike any other. With extraordinarily tight bottlenecks in manufacturing, and virtually no remaining inventory anywhere in the bike industry, we anticipate availability to be very limited all season. To help ensure you get the bike you're dreaming of, we created a pre-order system so we can ensure you get the bike that moves your family forward.
Pre-orders (with a 15% deposit) guarantee your bike's availability for spring delivery, somewhere between late February and early May depending on the brand. We have also expanded our financing offerings from Libro to help make an electric cargo bike affordable for most family budgets, and can help you get started with that program, too. To start your pre-order, send us an email, and we'll make it as easy as ABC! Deposits are due before December 15 to ensure availability.
For the season ahead, we'll retain our tried-and-true favourites, including the Babboe Carve, Larry vs Harry e-Bullitt, and Urban Arrow Family, while adding the spectacular Tern GSD and HSD folding cargo bike series to our lineup of available bikes. We're sure one of these bikes will fit your family's needs, so start dreaming, or send us a note to book a test ride!
Babboe Carve - $9,499 - $9,999
Sophisticated tilting cargo trike (with tilt-lock) makes for a stable and secure ride with your family.
Powerful Yamaha mid-drive motor, paired with Enviolo's continuously variable transmission makes for effortless riding and smooth shifting.
Carries up to four children comfortably under the rain tent (sold separately)
Our best-selling cargo bike in 2020
Finance from $235 monthly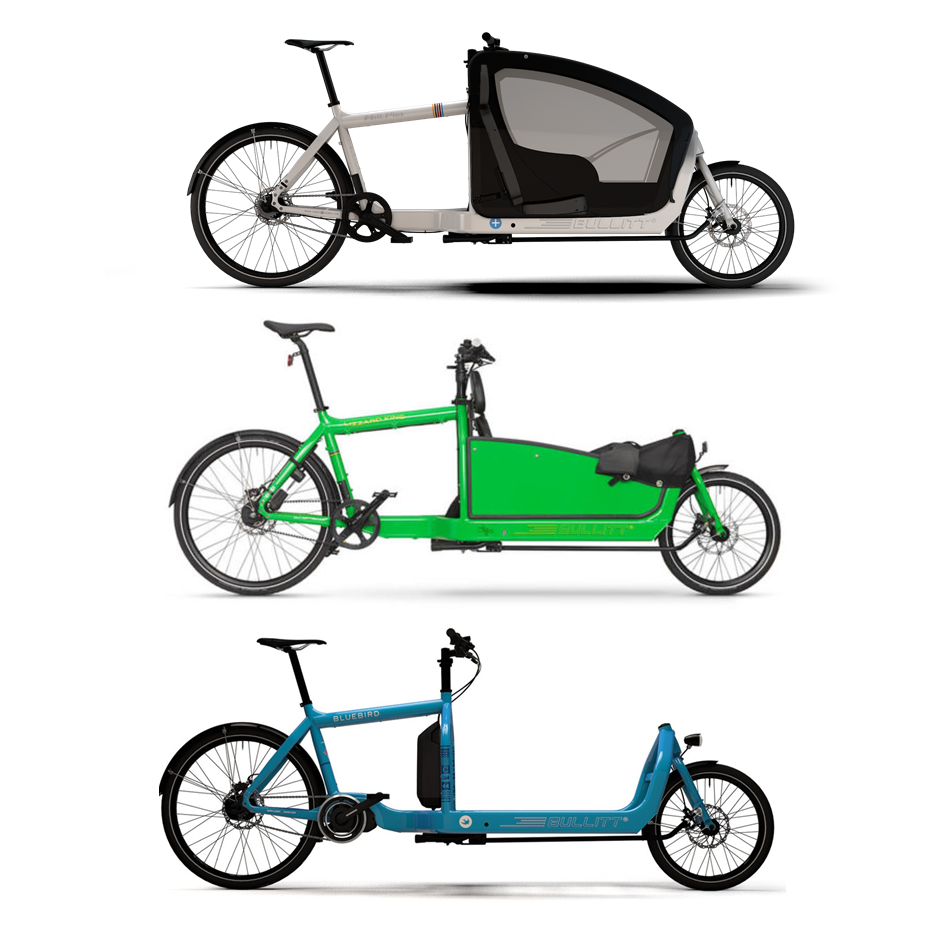 Larry vs Harry e-Bullitt
$9,199 - $9,999
Sleek, nimble, and versatile, the world-famous e-Bullitt delivers unparalleled performance in a cargo bike.
Shimano Steps motor and Gates belt drive system give a silent ride, and ample power to your wheels.
Carries two children comfortably with the "Kids Pack", or configure the front box in thousands of different ways to roll with your precious cargo, tools, or equipment.
Half our staff choose Bullitt to ride every day - come for a test ride to find out why!
Financing from $180 monthly
Urban Arrow Family
$8,999- $9,999
Smart urban mobility designed in Amsterdam by the world's leading electric cargo bike company.
The Urban Arrow Family makes trips for school, groceries, and the park a breeze!
Designed to be the safest cargo bike for families, the Arrow is fun and easy to ride for novice cargo bike riders and experienced cyclists alike.
Carry your whole family: an infant seat and two small children fit in the bucket up front so you can always keep your eyes on them. The box is big enough for adults, so can take your partner for a romantic date, too!
New in 2021: Bosch Cargo Line drive system, for easiest "lift off" and load carrying.
Financing from $180 monthly
Tern GSD & HSD
$4,899 - $12,699
Haul Stuff Daily. Get Stuff Done. Tern makes brilliantly designed folding cargo bikes that grow with your family.
Tern's ecosystem of accessories make it capable for everyday adventures, or cross-country treks.
Carry one child on the lightweight and zippy HSD, or choose GSD to carry two kids in comfort in the Clubhouse Fort (sold separately).
Powerful Bosch drive systems make hauling cargo and kids easy and fun.
Compact folding mechanism fits in the back of an SUV. Vertical parking takes up a miniscule amount of space in your apartment or garage.
Financing from $110 monthly
Our financing arrangement with Libro is the first dedicated program in Canada for e-bikes and cargo bikes. We believe in making family transportation affordable for more people, and Libro is helping us achieve that with great rates, and outstanding service. Thanks, neighbours!