Look no further to find the best summer bike routes around London, ON.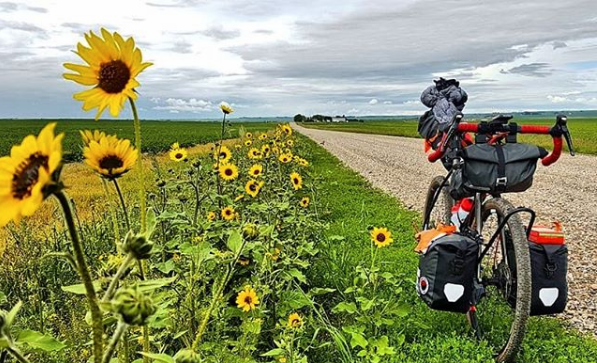 Bike touring, and bike-packing offer a world of adventure. Whether you're riding for half a day to the next town, or for weeks at a time, your bike can create memories that last a lifetime. Photo Credit: Sean Carter 
If you're not from here, let me share a little secret with you: London is a mecca for recreational cycling. There are so many fantastic in-town routes, and open country roads to enjoy, we had to write a blog to share some of them. Take a trip to London this summer or fall, and ride some of the fantastic trails, city streets, and country roads in beautiful Southwestern Ontario! 
In this blog, we've curated a few top-notch rides for you to try out. We hope there's something for everyone, from families to bike touring experts. We're looking forward to getting out on some of these rides this summer and especially into fall when it's a little cooler and the fall colours light up the countryside. 
In-Town Rides - Thames Valley Parkway
The Thames Valley Parkway is ~35 kilometers of connected off-street pathways. It's the backbone of commuter cycling in London, too. Shared with pedestrians, dogs, kids, and strollers, the TVP is a leisurely ride that requires caution to avoid obstacles in many places. The least-traveled section of trail is the recently paved South Branch, connecting downtown to Kiwanis Park in the east end. Rent a bike from us, and cruise the paths on a warm evening until you're satisfied, and stop for ice cream at Haven's Creamery when you're done!  Distance: as long as you want! Time: as long as you want!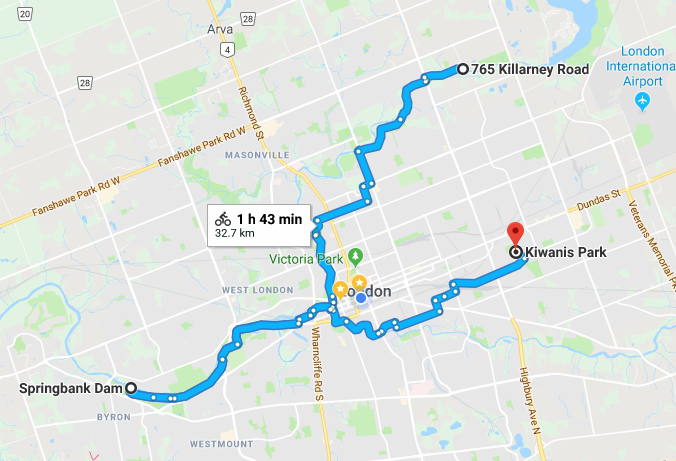 Half Day - Mount Brydges
One of the best-traveled half-day trips around London is the Mount Brydges loop. There are lots of different routes to take, but the destination is always the same: O-Joe Coffee, a great little roaster based in the hamlet! Distance: ~55km Time: 1/2 day. ** an earlier version of this blog contained an incorrect map and image. Thanks @bibtights for noticing the error.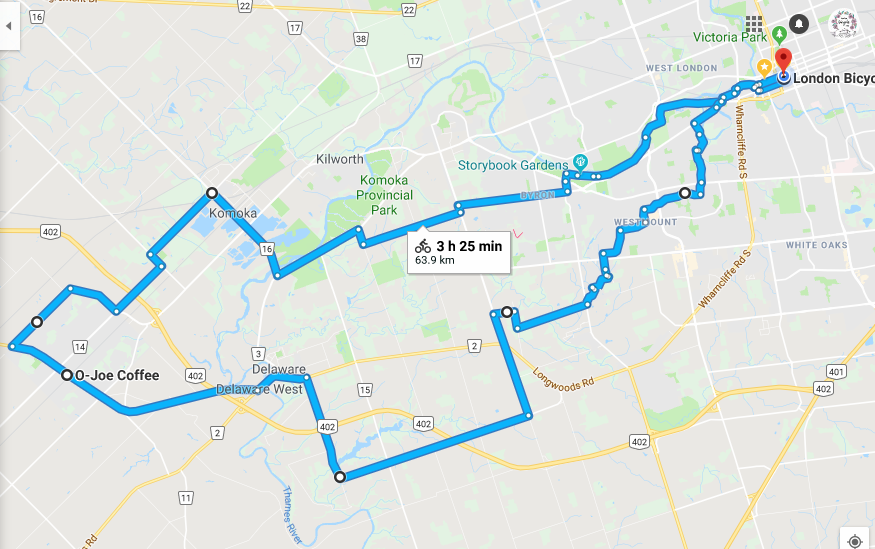 Full Day - Port Stanley
Port Stanley is a fantastic destination for your first full-day ride. Once you're out of the city, it's mostly mellow back roads, and even protected bike route for the last bit from St. Thomas to the lake. Don't miss the side road detour at Union (Sparta Line) to pass by some beautiful orchards, and sneak in the back-way to the beach! Get your orange-ade at Mackie's or a beer at GT's, and enjoy some swimming and sunshine. There are public showers and change rooms at the beach. Return the same way you came, or stop for ice cream at Shaw's on Sunset Drive on the way back to London! Distance: ~90 km Time: Full-day.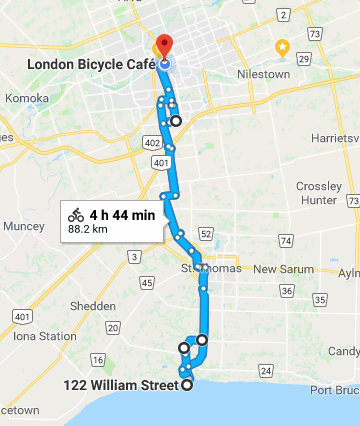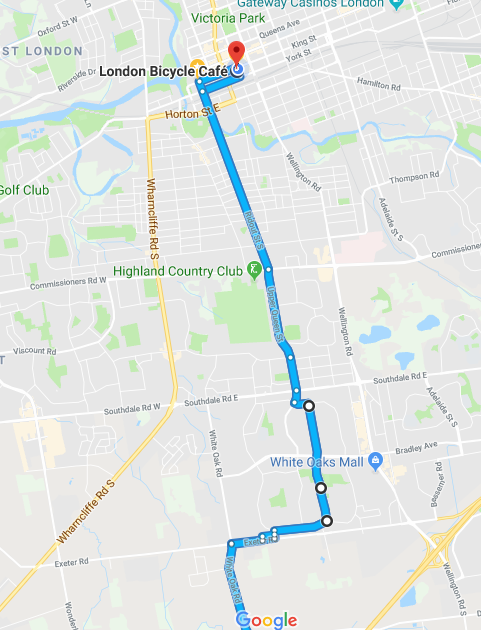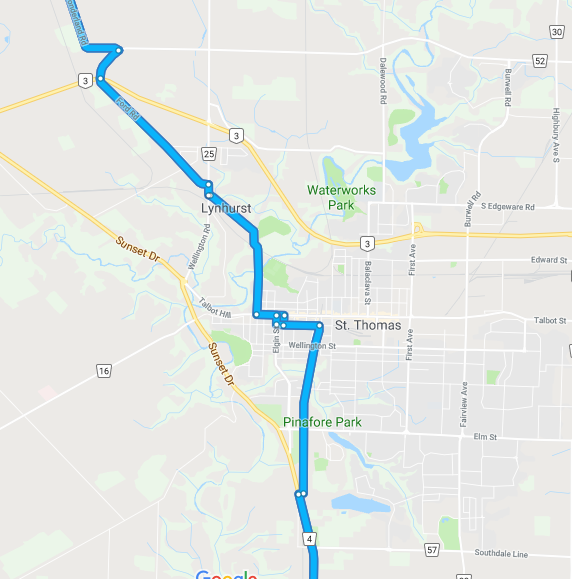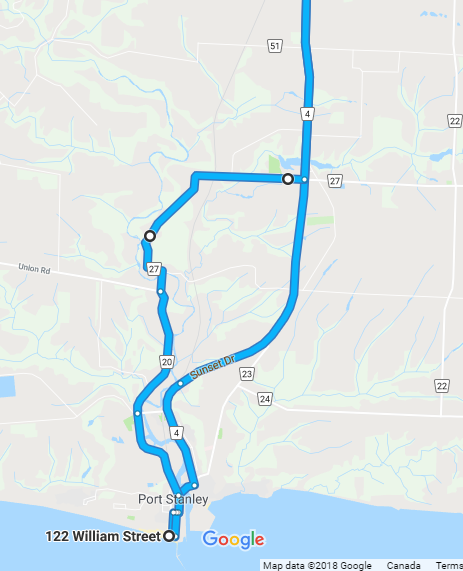 Overnight - Grand Bend and Pinery Provincial Park
If you're starting to get the adventure-itch, or you just like the idea of riding your bike to get to the next town, Southwestern Ontario has some fabulous destinations. We recommend trying the Pinery / Grand Bend as an overnight trip. There are lots of great places to stay around Grand Bend, but camping near the beach in the Pinery is our favourite. Cruise into town for some delicious fare, or cook your own tasty meal at your campsite.  Trip length: ~150 km. Trip time: overnight, or one day if you're hardcore.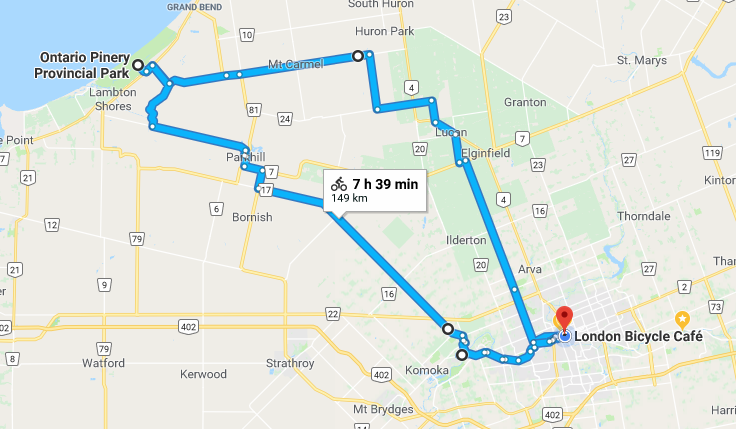 Three Day - Guelph to Goderich Trail
Multi-day trips are my favourite style of adventure. There's something special about leaving home knowing it's just you and what you're carrying for a couple days. In Southwestern Ontario there are a lot of great little towns to stop at for supplies, water, and refreshment if you need to stop en route. For this three-day trip, ride to Goderich in your first night, and enjoy the sunset at the beach. Travel on roads parallel to the main highways, you'll have a beautiful day. Day 2, hit the rail trail route east out of Goderich, and ride to Milverton, where you'll turn south toward Stratford. Enjoy the festival town's classic stone architecture, eat a fantastic meal at one of the town's many restaurants, and take in a show at Stratford Festival. Touring with theater clothes is a bit more challenging, but it can be done! Day 3 ride back to London via St. Mary's, completing the circuit! Total distance: 275 km. Time: 3 days / 2 nights.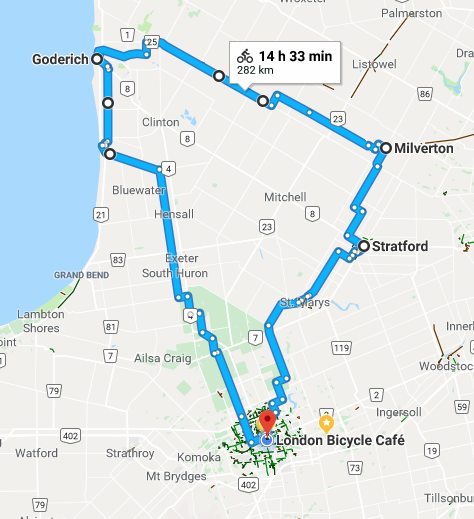 More Adventures
There are so many other great rides around Southwestern Ontario. Make it a priority on your bike touring bucket list this summer and fall!