London Bicycle Cafe's origin story.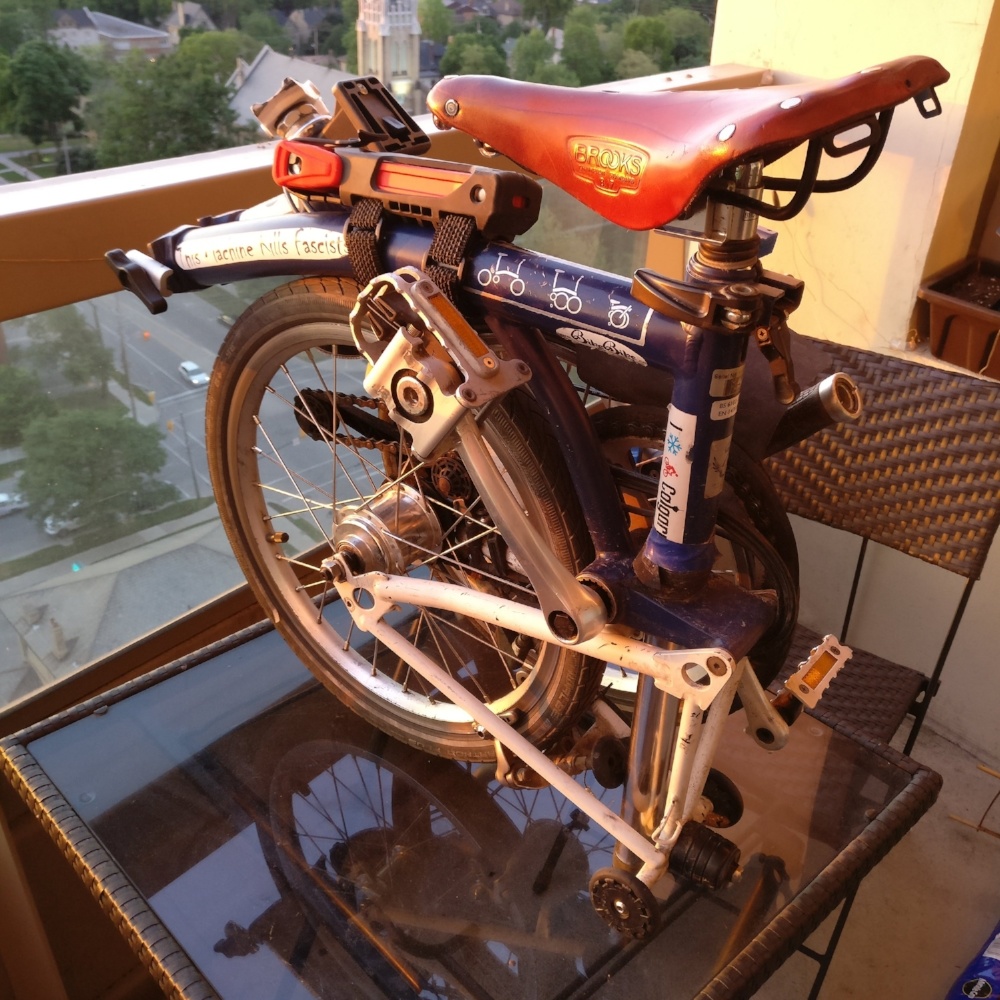 There are a lot of people who can say that bikes changed their lives. The bike that changed my life was a Brompton folding bike. From a chance encounter in what's now my favourite bike shop, to falling in love with a spectacular design, to embracing citizen cycling, and finally to opening my own store, I can say in reflection that Brompton changed my life. Here's my story. 
I first was introduced to Brompton when I was living in Calgary in early 2010. At the time I was riding a classic green road bike from the 1970's that I'd picked up from Dunbar Cycles in Vancouver. I was in my 20s, and it was a cool bike. Sort of. And it got me where I needed to go pretty fast, so I was OK with that. I didn't own a car at the time (and had never owned a car), so my bike was how I got to work, play, and anything else worth doing in the city. Sure there was transit (and being a grad student, I had a free pass), but my bike was how I got around fast. It let me leave when I wanted to go somewhere, it went exactly where I wanted to go, and I loved the way I discovered the quirks of Calgary's neighbourhoods at a speed that felt right at the human-scale. 
A new bike shop had opened in my community, so I stopped in to check it out one day in the spring. It was like no other bike shop I'd ever been in before. There were weird European bikes, long-tail cargo bikes (which at the time, I couldn't imagine a use for), and then I saw it. A folded up Brompton that I couldn't believe was actually a bike. I can't remember if I test-rode one that day, I probably did. What I do remember is going home that night and trying to learn everything I possibly could about that bizarre machine. How could someone have invented something so incredibly clever, and still have it ride like a real bike? I read about the history of Brompton, and of the founder Andrew Ritchie. I read about Will Butler-Adams who took Brompton from niche product to become Britain's biggest bike builder. I read blogs about Brompton, found sweet videos of people doing tricks on Bromptons (I wasn't into tricks, but the video is awesome, just watch). I discovered the Brompton World Championships. I wanted to read it all. I also wondered why these bikes weren't a part of everyday life in North America yet. I immediately saw how it would make my life better day-to-day, and had visions of traveling everywhere with one of these bikes (running travel total now includes three countries, 22 US states, and 6 Canadian provinces). I could take my bike on the train or bus, which was great on days I didn't feel like climbing the hill out of the river valley. I could hide it under my desk at work to avoid theft, rain, and snow. It took up less space in my apartment. I'm also certain I've saved more money by not paying for parking than I spent on the bike. And it was super cool (which is usually a good motivator to buy a bike). It was perfect. All I had to do was figure out how I could afford one. 
Fast forward to 2011, I'd won a major scholarship, and was hired to teach my first lecture section of Introductory Geology, so I went on Brompton's Bike Builder, and designed my perfect bike. I sent the specs over to Sean Carter at Bike Bike whom I'd met only the once previously, and placed the order. It took a painful five months for the bike to arrive, from an expected six to eight weeks. There was some sort of production or shipping delay that kept me waiting all summer. But when I finally rolled out the door with it in early November, I felt so incredibly free. I rode down 17th Avenue, past the Stampede Grounds, and most of the way north out of the city before turning around and coming home. I didn't want to stop riding. What I didn't realize then is that I'd inadvertently 'discovered' upright cycling. Before that day, I'd only had mountain bikes, or road bikes. I'd never sat upright on a bike before, and never even thought about the existence of bikes designed just for city use. I'd never considered Amsterdam or Copenhagen as a "thing we can do here." Even after living in Berlin for a summer on research exchange, bikes for transportation were just something "that happened over there in Europe," at least to me at the time. Even more wonderful is that I'd just bought a step-through bike (also without realizing it). Call me an accidental early adopter? My Brompton was part of a personal transformation of which I was only beginning to be aware.
While I continued my career in geology, my Brompton was always present as I volunteered my time to make Calgary a better place to ride for everyone. Every time I'd ride downtown from the University for meetings at various E&P companies (usually in a fancy suit, no photos, sorry!), I began to think less about my own ride, and how I could make this incredible freedom possible for other people, recognizing that there are a lot of barriers to picking up a bike habit. Spurred by an incident where I was threatened with a baseball bat by a group of young men in a pickup truck for riding my bike down the street, I joined Bike Calgary, and by the spring I was recruiting volunteers from all over the city to capture Calgary's citizen cycling energy. Through Bike Calgary, I met an amazing community of people who were organized, smart, and cared about making the city a better place for everyone. I didn't always understand why they pursued the things they did at the time (what's a cycletrack good for anyway?), but looking back, I understand what Frans, Cate, Richard, and Darren were talking about. By taking this step, I became part of a broader movement toward building a more resilient transportation network, that enables individuals to choose the economic, social, and health benefits of riding a bike safely, every day. It was empowering being part of such an amazing team. 
I defended my PhD and moved to Boston in 2013, and while I was away, Calgary finally hired an active transportation director (Tom Thivener, one of the most capable engineers I've ever met), and built some nearly-perfect cycle tracks. The downtown cycle tracks were a political ordeal to say the least. Calgary was the first city anywhere to go "all at once" and develop a whole network rather than build things piecemeal, and since then the all-at-once model has become the "go-to" model for cities across North America. It's hard being the guinea pig. The network was introduced with much fanfare and support from city leaders including Mayor Nenshi, as well as some screaming opposition. Kimberley Nelson, who had joined Bike Calgary at the same time as I did, was now president, and she put up with more crazy-hate over bike lanes than anyone deserves. When I returned to Calgary in 2015 I was wowed with how easy it was to get around on a bike compared to when I left. One of my first nights back in town, I rode the cycletrack network to the Bike Calgary Annual General Meeting, and couldn't believe that there were more than 100 people in a brand new space. The city had grown up, and cycling had grown to be a part of it. A few people recognized my Brompton parked outside, and made sure I came out to the pub after the meeting was over.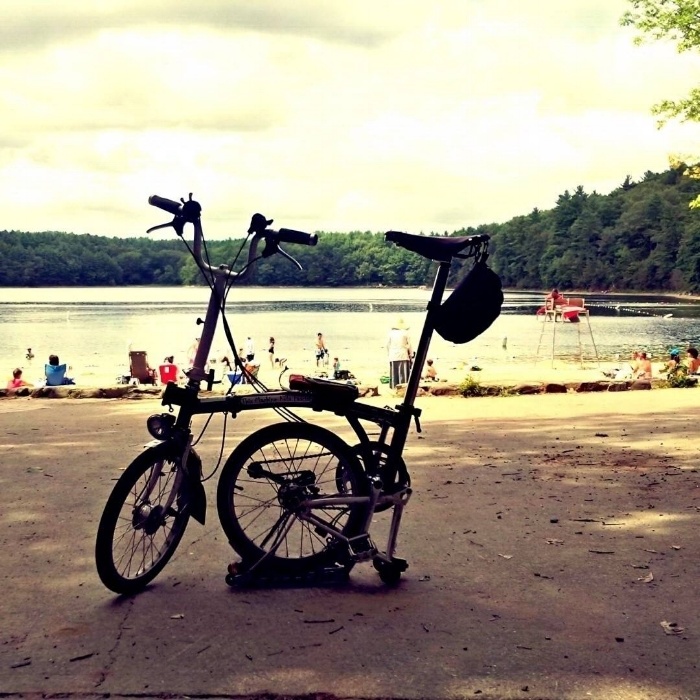 Fast forward again to February 7, 2017. I was still in Calgary, but planning to move back to my hometown of London, Ontario, and I didn't have a plan for how I'd make a living while I was there. Geology isn't a high-demand profession in London. I rode my Brompton down to see Sean at Bike Bike (since he first sold me a bike, we'd become good friends, and even launched a podcast together) and that day I pitched him the craziest idea I've ever come up with: I wanted to help people in London discover urban cycling the way he had helped me and so many other people in this city discover (or rediscover) their life on a bike. I asked him, "is that something I have the skills to do?" He said "you definitely can do it, and we'll help you.*" That was the day London Bicycle Cafe was born, in the same room where I discovered the whole world of city cycling the first time around. 
Today I can share a photo of the first Brompton that's left our store, and I'm almost certain this one will be life-changing, too. In the first year we've been open (our anniversary is June 13th), we've helped hundreds of people discover, or re-discover life on a bike. Without Brompton, I'm not sure any of that would have happened. 
Thanks to all of you who have made our first year in London absolutely amazing! Especially Shelley (pictured below with her new Brompton) who's been a cheerleader and supporter for us since before we opened our doors. We can't wait to see what the next year will hold for us all. 
- Ben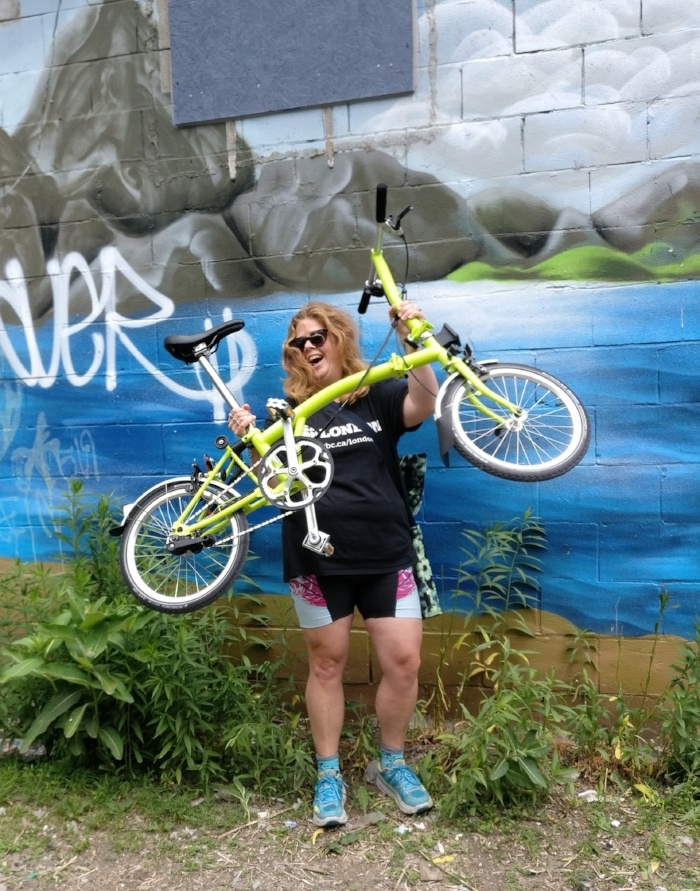 * Sean and his partner Nadia became our formal mentors through the Futurpreneur program, which we recommend for all motivated young Canadians!