A detailed review of the different ways you can obtain a bike and what to watch out for.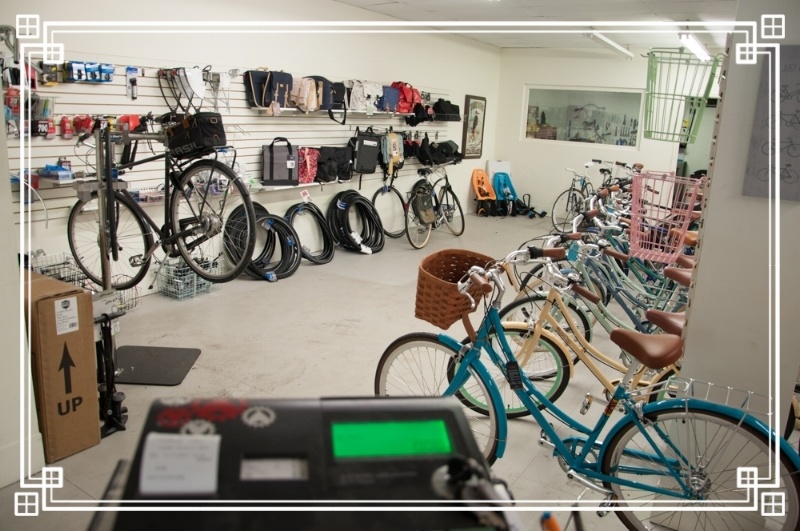 How do I find a great bike? This is a question I know a lot of you are asking yourselves this time of year. Spring is just around the corner, the roads and paths are clear of snow, and the flowers are starting to bloom. It's a perfect time to start to ride.
We've written a lot on this blog about why you should start riding a bike, and as spring rolls in we want to write a bit about how you should go about finding your new ride. There are a lot of different ways to find your perfect bike, but we've distilled it down to three:
New bike from an independent bike dealer (like us!)
Quality used bikes from various sources (Kijiji, friends and family, Squeaky Wheel Bike Co-op)
Department store bikes (Costco, Walmart, Sportchek, Canadian Tire, etc.)
We've summarized some of the pros and cons of each source below, and hope we can give you the right information to get out and find your ride this season!
---
Independent Bike Store
OK so I know what you're thinking. "You're an independent bike store, writing about buying a bike, and you're going to tell me that buying a new bike from London Bicycle Café is my best option." And you're absolutely right, that's exactly what we're going to tell you. We believe that buying a bike from us will save you time, save you money, give you peace of mind, and keep you on the road longer than any other way of buying a bike. 
Your local bike store exists to help you find the right bike to fit your lifestyle. When you come to see us, our job is to help you find the right bike to suit your needs, and support you for years after you leave our store. You will have a fantastic selection of bikes to choose from: different styles, features, colours, and brands, that all have different features that you can try in-store. Once you find a bike you love, we can help you find a matching pannier, or basket, and give you tips for maintaining your ride, and if you get a flat tire along the way, you can stop in for a tasty espresso while we get you back on the road. We also give away a lot of free advice to our customers, and we charge reasonable rates for repairs and maintenance when you do need something fixed. There are many reasons to support your local bike store, here are a few of them below: 
Pros of shopping at a local independent bike store
Selection. Especially early in the season, your local bike store has an excellent range of bikes that fit your needs. We carry the best line of commuting bikes, upright Dutch-style city bikes, and cargo bikes in Southwestern Ontario. We go to great lengths to curate a selection of bikes that work for most budgets and styles of riding. If we don't have what you need in store, we can often work with our distributors to place a special order to get you exactly the bike you need.

Durability. Our bikes are built to last. We expect that every bike we sell out of our store will still be on the road in ten years, given a reasonable level of regular maintenance. Some of our bikes I expect will be on the road longer than I'll be alive (looking at you, Achielle), and provide a level of quality that I'm not sure exists in many industries today.

Warranty and Support. We warranty your whole bike for a year, with free minor tune-ups, adjustments, and fitting. After the first year, we're still here to keep you rolling with parts, great accessories, and ideas for doing more with your bike. Our suppliers' frames are usually warrantied for life, and we can help with any parts issues you may have. Bottom line: we stand by the products we sell.

Service. Think of us as your personal bike shopping concierge. We want you to find the right bike for your lifestyle, and have lots of experience helping people find that freedom. Whether you want to get to work every day, get groceries once a week, have an amazing summer picnic, or drop your kids off at daycare every day, we can help you set up the right bike for your needs. If you can't make it to the store during our normal hours, we can schedule a private sales appointment when it's convenient for you.

Fit. When you come shopping for a bike with us, the first thing we do, even before you go for a test ride, is do a rough fitting. Finding a bike that is sized correctly is essential for your comfort, and even for your ergonomic health. When you are positioned correctly on a bike, you'll be able to enjoy it more often. Once you've found the bike you love, we spend some time fitting you perfectly, so you can make your bike exactly yours.

Value. We think buying a bike from us gives you the best value in terms of selection, service, warranty, and long-term costs involved with riding a bicycle. Once you start to think of bikes as transportation, a bicycle is usually less expensive than walking when you consider how valuable your time is to your family. Riding a bike to work is certainly less expensive than driving or taking the bus every day. Really, we mean it - not only is it faster, it's cheaper, too! Riding your bike for transportation will save you money, no matter where you find your next ride, and we make it easy for you to start saving money.

Supporting your local community. Independent bike stores are owned and operated by ordinary people in your city, who shop at the same businesses, eat at the same restaurants, and participate in the same social events as you do. Money spent at your local bike store stays in your community, and helps support the local economy.
Cons of shopping at a local independent bike store
Upfront cost. We know buying a new bike can put a dent in anyone's budget. We think the long-term savings of buying a bike for transportation are worth it. We wrote about how your bike purchase pays you back here, and Lindsay went even farther saying that knowing what she knows now, she might have borrowed money to invest in an electric cargo bike.

Selection, sometimes. We curate a great selection of city bikes, but we know there are hundreds of brands out there. If you have your heart set on a specific brand of bike, come ask us why we don't carry it. We're honest about bikes we love (and wish we had in store), versus bikes that have some serious flaws that we wouldn't ever stock.
In summary, if you're looking to buy a bike, think of it like a long term investment. If that bike will be your trusty every day transportation, travel companion, and adventure buddy, it will need a little support. Your local bike store has the right bike for you, and provides you with the long-term support that you aren't going to get from big box, online, or Kijiji. Support your local bike store, and we'll support you, too. 
---
Quality Used Bike
This is the murky grey area of bike buying. There can be some incredible finds and certainly there are quality used bikes available. However, if you're not careful you can end up with a "Dunger" (the amazing Kiwi word for a bike that needs a lot of repair). Buying a random used bike from a stranger on Kijiji is one option, visiting your local bike co-op can be a better option.  There are lots of online guides to buying a used bike, so we've summarized our ideas below. 
Maybe the most important thing about a used bike is to buy one that is serviceable. This means it's made by a quality bike manufacturer, and that it's made with modern standard replaceable parts. The older the bike, the less likely it's in good shape. That vintage Raleigh from the 70's is attractive and stylish, but might cost you more to get it on the road than it did to buy it. 
Questions to ask yourself before you start your search: 
Do you know... 
how to fit the bike, or make adjustments to make the bike fit?

how to check the components to see if they are working properly?

how to check the frame for cracks, or other damages?

how to identify a broken wheel, or worn-out tires?

what a used bike is worth?
Once you've answered yes to all of the above, you can start your search for a used bike. Once you find that bike, and get to a meeting with the seller, here's a list of questions to ask from the seller of the bike: 
Questions to ask about a used bike from a seller: 
Why is the bike for sale?

How long has it been in your garage, (i.e. unusued)?

When was it's last tune-up?

Can I have it inspected by my bike mechanic? (we offer this service for $25)

What is the bike's serial number? This one is tricky, as this could come off as accusing the owner of theft. We run the serial number on 529 Garage as part of our inspection.
Pros of used bike buying:
Cost. Used bikes can simply cost less than new bikes, and can still last a long time if you find the right bike. There is value to be found here if you know what to look for. Bikes are durable products that should last for many years, and we hope to see some of the bikes we sell on the used bike market in the next few years as their owners upgrade or move.

Vintage. If you're into that cool retro-look, and only a true classic will do, this can be your market.

If you can't afford a new bike, buying used is far better than buying from a department store.
Cons of used bike buying:
Warranty. Caveat emptor, there is no warranty on most used bikes. If something goes wrong, you're responsible for its repair. You can ask the owner for service records, but they likely won't have them. If they do, you might have found yourself a great bike.

Part compatibility. Lots of bikes we see take the "vintage style" size wheels that are obsolete and not widely available. Look for "27 1-1/4 inches" and/or "630" on the tires as a warning sign. Repairs on vintage parts can be very expensive.
Brands to look for on your used bike search: any bikes we carry, plus bikes from brands like Giant, Trek, Raleigh (newer), Specialized, Kona, and a variety of other big brands. When in doubt, ask your local bike store. 
---
Department Store Bikes
Common brands: CCM, Supercycle, Huffy, Schwinn, Kent, Mongoose, Nakamura, Sims, and many others.
We've written about this before, and will re-iterate that department store bikes aren't worth the savings. They will save you a little bit of money in the short term, and will cost you a lot in the long term. These bikes are not assembled by professionals, they come with no support or warranty, and are intended to be disposable (the parts are often of low quality, and not always replaceable with quality parts!). The bikes are very heavy, don't give a quality riding experience, and you won't enjoy yourself like you would on a quality bike. Just say no to department store bikes. 
Pros: 
Cons: 
Ongoing costs

Poor assembly quality

Poor component quality, often not replaceable

Poor ride quality

No warranty

No test-rides

And more... read our blog.
---
Summary
In a nutshell, if you're looking for a bike this year, the best way to go (unless you're really confident with your bike skills) is to visit your local independent bike store. A new bike will cost you a bit more up-front, but will save you lots of money in the long term. You'll start to develop a relationship with people in your community who want to help you ride more often, and be able to give you the long term support you need to keep riding long into the future. Come see what we have to offer, we can't wait to meet you!