A day in the life of a family that cycles in London, Ontario.
One of the amazing things bicycles can do is shrink the distances between communities in a city. Often we hear people ask, "London's such a sprawling city, do bikes really work as transportation?" Our answer is always a resounding, YES!
Consider two typical Londoners, Sarah and Mike, who own a home in the Carling neighborhood. They have jobs, errands, a newborn, and an extended family to take care of, and bills to pay.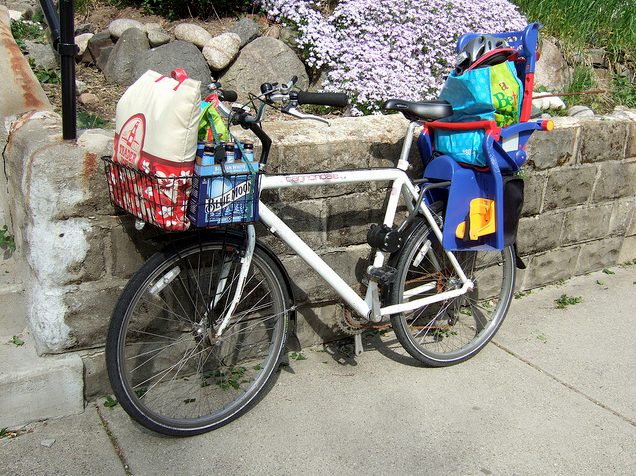 On Saturday afternoon Mike needs to pick up some burgers and a six-pack for a summer BBQ. It's a beautiful summer day, and he wants to be outside, but his friends are coming over in an hour. He'd like to walk to the Beer Store, and FreshCo at Huron / Adelaide, but walking will take him nearly half an hour each way. Instead he jumps on his bike and he's there in seven minutes flat, giving him lots of time to be picky about his craft beer selection. Good call, Mike!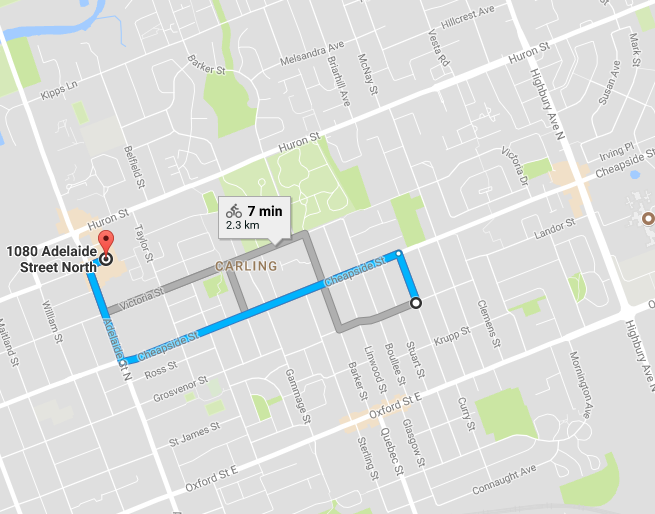 Sarah commutes to her downtown job and usually parks in the Citi Plaza parking lot on Clarence Street. Driving takes anywhere from 9-18 minutes on an average weekday morning, plus five minutes to park and walk to her office. Riding her bike takes 18 minutes reliably, and she gets to enjoy some fresh air and see her neighbours on the way. She doesn't even break a sweat because she chooses to ride slowly and comfortably. What's even better is that Sarah saves more than $1000 per year in parking costs alone when she chooses to ride a bike from April through November, and drives on a handful of very rainy days. She also saves more than $800 per year in estimated driving costs, gas, maintenance, etc. What would you do with an extra $1800? A beautiful new bike? Accelerated mortgage payment? Caribbean vacation? Seasons tickets to the Knights? Just kidding, we know money can't buy you top spot on the waiting list. Great job Sarah, your smart commute is saving you money and giving your brain and body a great bit of morning activity!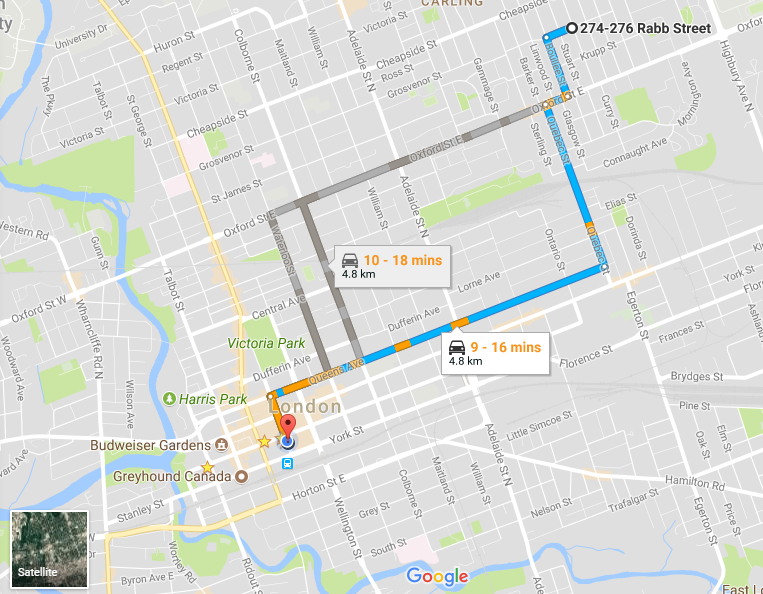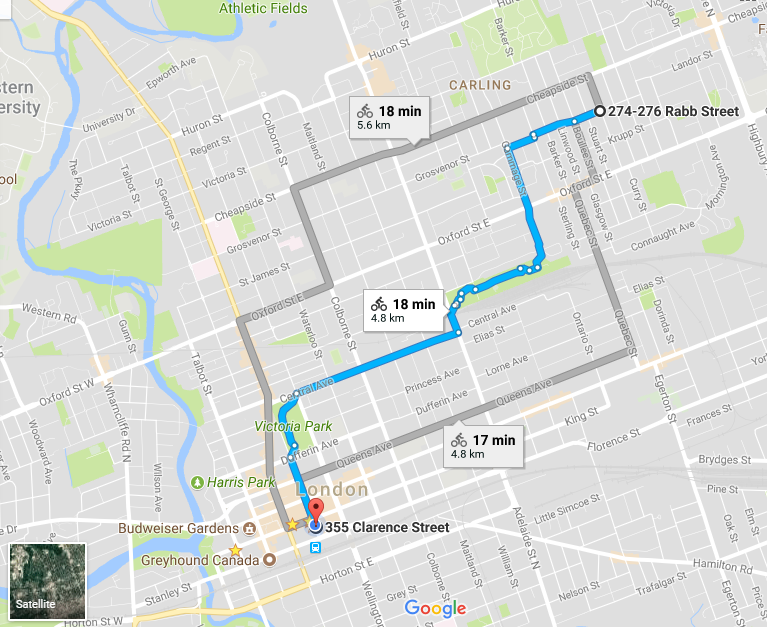 Next weekend Mike's nieces, Juniper and Nora are visiting from out of town. Mike and Sarah want to take the kids to the Western Fair Market on Saturday morning. Instead of walking on busy streets, or scrambling for a chaotic parking spot, Sarah jumps on her cargo bike, Mike puts the baby on his back seat, and they take the kids to play in the park for a little bit before stopping for a tasty Fritter treat, and fresh local berries. Their loop to the park costs them no more time than walking to the market without a stop at the park, and the kids can get back in time for their afternoon nap. Not to mention the kids LOVE to ride on Aunt Sarah's cargo bike! As a bonus, when they take the direct route home they have a protected bike lane to cross the train tracks on Quebec Street! Score one point for in-town weekend adventures!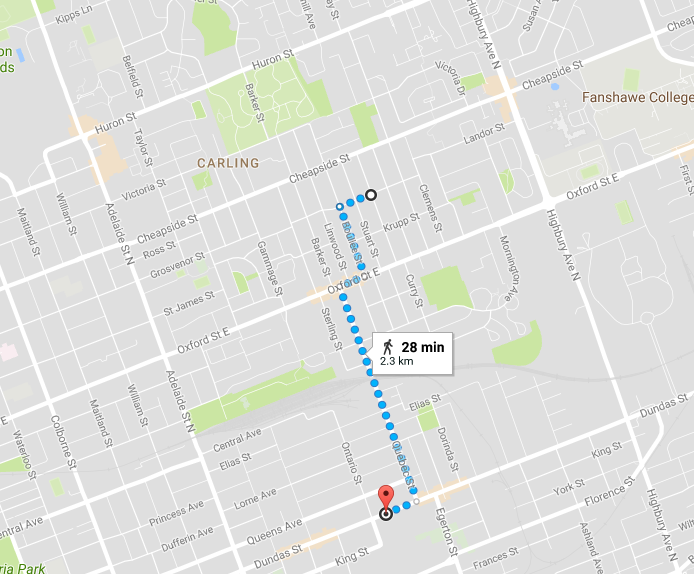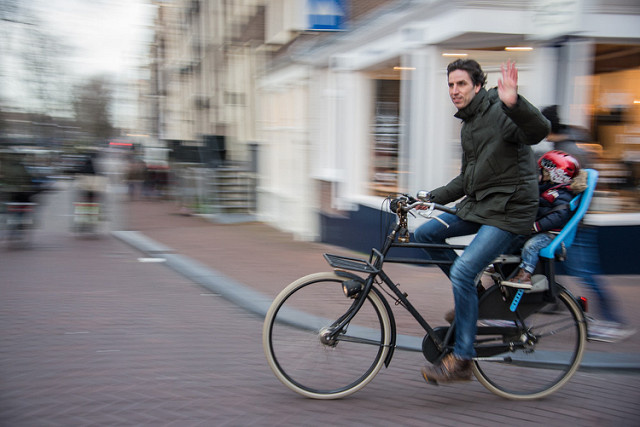 Our answer to the question: is London too spread out for bikes to be useful? Certainly not. Bikes are incredibly useful in London for transportation. They shrink the city, allow you to engage within your community, and in communities nearby, while saving you some money along the way. The couple we've written about is entirely fictitious, but could easily be any young couple in London. Great job, Sarah and Mike, way to show London the way forward for 21st century transportation!