A little about what makes the King (street bike lane) so great.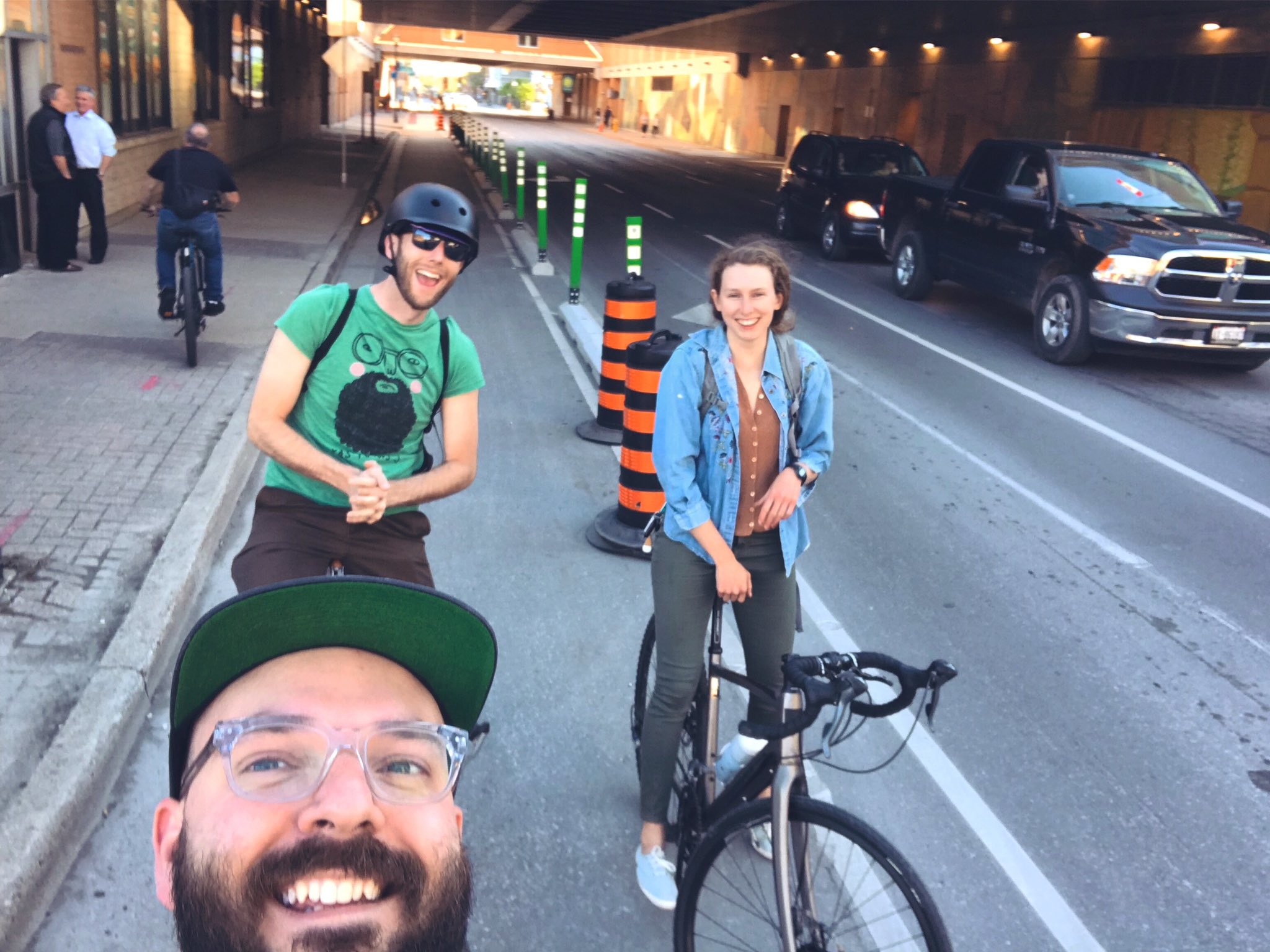 Smiling happy people in the King Street protected bike lane! (Photo: @stevemacdouell)"]
Happy Bike To Work Day, London!
After a year of dodging cars with texting drivers, and dangerous buses that cross the bike lane every block on King Street, the re-designed corridor with a protected bike lane is (almost) open! This post contains a quick start guide on how to get the most out of London's newest bike facility, and flip your morning commute from dull to delightful.
What is it?
King Street's redesign includes a protected bike lane and transit islands. The bike lane is separated from cars by concrete, meaning if someone makes a driving or cycling mistake, nobody dies. It doesn't mean that you don't have to pay attention, or not be a considerate road user, you still have to be both of those things. However, you are far more shielded from the threat of motorized traffic than you've ever been in London before. That's a huge step in the right direction. You can ride safely Eastbound on King Street in the bike lane (it's not two-way!), and you must yield to transit users crossing your path as you ride. You should also check your left blind spot approaching intersections, as vehicles may be turning right from King onto intersecting streets. Turning vehicles are required to yield to you, but in the first few weeks, we anticipate more driving errors as everyone gets used to the new design. Overall, this street design is a vast improvement from a painted lane, and creates a safe environment for all road users. It's the first street in London to accomplish this, so we should certainly celebrate its opening!
Where is it?
King Street's protected bike lane (PBL) runs 1.2 kilometers from Ridout Street to Colborne Street. Practically speaking, the vast connections the King PBL creates are more important than its somewhat stunted length. After King is open, people riding bikes will have a direct connection from the Thames Valley Parkway at the Forks of the Thames all the way to the far side of Downtown. This means most downtown amenities (Central Library, Bud Gardens, government offices, YMCA, high schools, festivals, restaurants, shops, theatre, movies, and more) can be reached safely and comfortably by bike for the first time… ever. Pretty cool, right?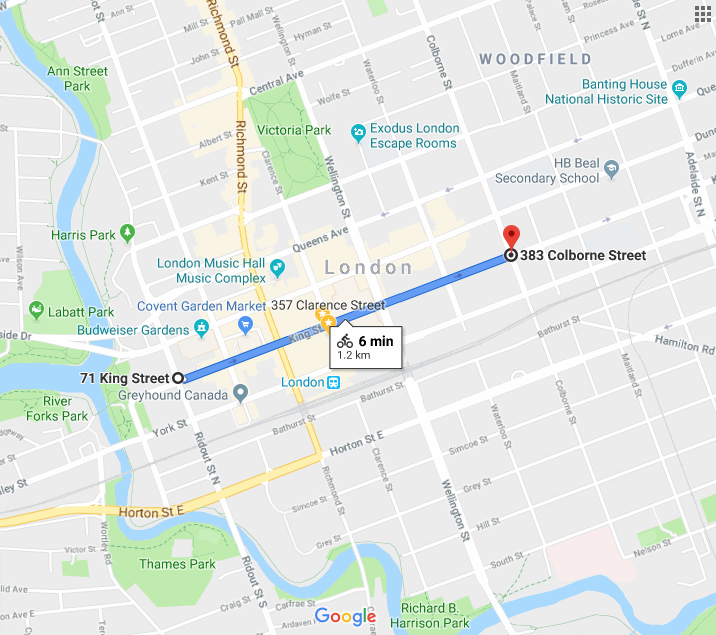 When does it open?
Officially the Protected Bike Lane doesn't open until June 13th (which is coincidentally our 2nd birthday! We couldn't imagine a better birthday present!). If you want to celebrate, join us at Covent Garden Market for their Thursday night market festivities from 4-7pm, and celebrate London becoming a grown-up city with grown-up things like bike lanes and transit islands! More details will be released about the grand opening party soon.
Even though it's not officially open, King Street is usable by bikes today. While there are signs saying "don't ride here", the concrete protective barriers that separate you from traffic are up, and there aren't any obstructions east of the entrance off Ridout Street. Use the lane at your own risk, but even half-open, it's way less dangerous than any other route through downtown.
Who can use it?
King Street is now designed for everyone! Children as young as eight (with their parents, of course), and seniors eighty and up should feel comfortable riding here. People with impaired mobility should feel right at home wheeling down the street-level lane rather than using the sidewalk. Skateboarders, rollerbladers, and users of all kinds of wheeled vehicles are welcome, too. There's been a bit of a debate on the transit-nerd-internet about what these lanes should be called, since they're not just great for bikes. Also, these lanes can be used by ambulances and emergency vehicles to get around all the space-inefficient motor traffic, so get out of the way if you hear sirens behind you!
Why should you use it?
It's so much safer and comfortable to use than any other bike facility in the city. It's even better than the crowded and (half the time) dark and spooky Thames Valley Parkway. You can get to the fabulous restaurants and shops along King, visit the library at Citi Plaza, shop on Dundas Place, see a show at Bud Gardens, the Grand or the Original Kids Theatre. Of course, you can come see us at London Bicycle Cafe, too - turn right at Clarence Street toward the Via station, we're the only business on the block!
How can you get the most out of using King Street?
The magic word for King Street is connection. King is great because it connects downtown destinations to the extensive Thames Valley Parkway trail system that runs throughout the city. You can also get multimodal on King! You can ride out of the protected bike lane and onto the transit island to load your bike onto the bus. Some days when the rain starts in the afternoon, you're feeling less than 100% after a long day, or you have a little too far to go, taking the bus home can be the right decision. All London Transit buses are equipped with bike racks, and they've made a handy video here to show you how to use it! If you're looking for longer distance travel, turn right at Talbot Street and ride a block south to Greyhound, or turn right on Clarence Street and ride a block south to Via Rail. If you're looking for a safe place to store your bike while you travel, we offer long-term secure bike storage, too.
Finally, to help you figure out how to get around, and to find new places to explore, we've created a NEW subway-style map to help you connect with your city! It's not a map in the sense of showing you every street and turn, but a schematic meant to inspire, and show where you can get to safely by bike. This map is available now as a beta version, and you can help us improve it as you use it. You can download it for free, or later this week you can buy a limited first-run laminated copy from us for $7. All of the proceeds of the sale will be donated to Velo Canada Bikes to support the creation of a National Bike Strategy to help cities like ours become bike friendly!
Things to Watch Out For on King Street
There aren't separate bike traffic signals along King. Use the "regular" (red, yellow, green) traffic signals to proceed (not the pedestrial walk/don't walk signs).

Use box turns to turn left. Rather than cutting across multiple lanes of traffic, a box turn (or Copenhagen Left) is a safe and easy way to travel Northbound from the King Street lane. If there aren't green boxes painted in the northbound lanes, try using the space between the crosswalk and bike lane.

Vehicles shouldn't turn right onto King from the cross streets while you have a green light (no right turn on red!) but they probably will ignore the signs and turn anyway. Keep your eyes peeled for those pesky drivers coming from the right at intersections!

In the underpass beneath Citi Plaza, there's a bus timing area, where people riding bikes actually go up onto the sidewalk curb rather than stay at street level. While this isn't a proper bus "stop" (the bus is just waiting there to stay on schedule) there may still be people getting on and off here. Use extra caution, and go a bit slower.

Salmon (n.) - people using bicycle infrastructure in the opposite direction from its designed use. Salmon are usually found "swimming upstream" in protected bike lanes due to there being no other safe option to travel in the direction they would like to travel (in this case, westbound). Be courteous to salmon, they're just trying to get to their destination alive, too.

This new street design triples* the capacity to move people through the city. It's an improvement in safety for all user groups, and it will help to create a more vibrant downtown environment. Take your time, and help explain the new infrastructure to others if they look lost. A little compassion will go a long way to helping us share the road together.
Notes:
*Here's an infographic showing how many people can move through a city streetscape. The King thoroughfare has had its people moving capacity nearly tripled from one car-only lane, one mixed bus/car lane (2000 private car + 5500 bus/mixed = 7500 people per hour) to one car-only lane, one mixed bus/car lane, and a bike lane (2000 private car + 5500 bus/mixed + 14000 bike = 21500 people per hour).