Meet the coffee we'll be serving up at the London Bicycle Cafe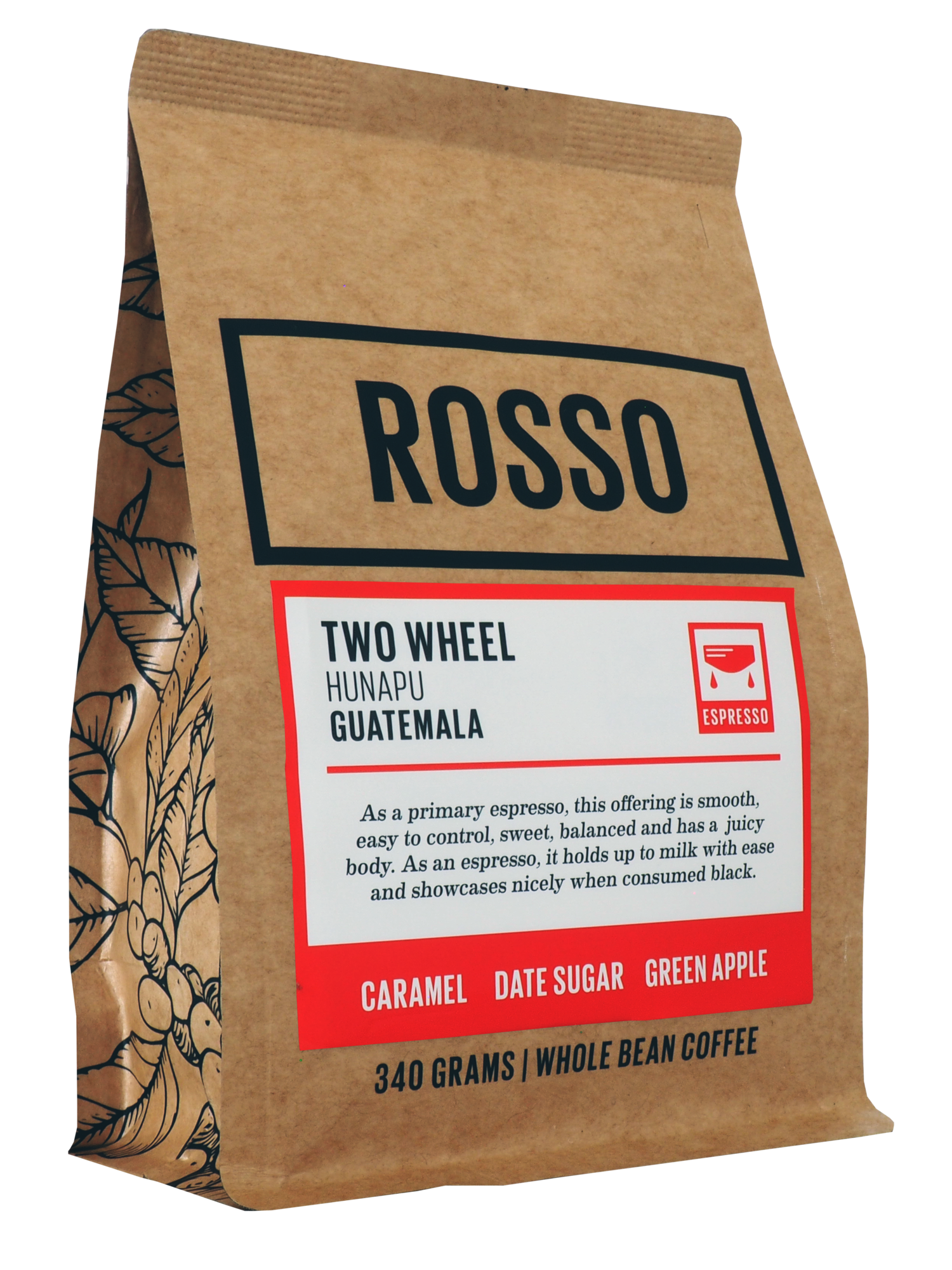 We're getting close to having the espresso bar open for tasting! Our La Marzocco Linea espresso machine has arrived from Italy, we've been perfecting our pourover technique, and opening day is approaching soon!
When you come visit us at London Bicycle Cafe, please ask us about the coffees, and their origin stories, we'll be happy to share as much as we can. We invite you to read the Rosso Journal for stories from each of these farms, as the coffee stories from each farm are rich with characters and experiences too lengthy for this space. Here's a sneak preview of five different tastes we'll be serving when we open our doors.
Hunapu Two Wheel
(Hunapu Project, Guatemala, Espresso)
Hunapu is a part of a collection of small farms around the Antigua Valley. Most of these farms are around three hectares on average - relatively small in the coffee world. Because of their high altitude, these small farms see a cooler climate and less intensified sunlight, forcing the plant and the fruit to develop slower and store more sugars. These farmers have come together to form a project by the same name. This is the third season Rosso has purchased coffee from the Hunapu project, and there are two collection points we've come to enjoy the profile of - Hunapu and Hunapu Miguel Duenas. This year, we found that Hunapu was stunning as a stand alone. It's depth and complexity has really wowed us. Tons of sweetness in the form of date sugar and caramel, with an apple-like acidity and some apricot and plum to help back it up. Roasted for espresso, Hunapu has a nice clean apple acidity, which finds balance in complimentary date sugar and caramel-like sweet tones.
San Francisco 1900
(Roger and Jorge Solis, Costa Rica, Filter)
There's a lot about this coffee that reminds us of biting into a peach. It's sweet, juicy and filled with tons of caramel-like sweetness. We were able to visit Microbeneficio La Casona de Doña Lina this past February for the third time. It's located just outside of the town of San Marcos in the Tarrazu region of Costa Rica. Roger Solis and his sons Jorge and Sebastian have done a wonderful job with their coffees, which are produced from their two farms and one mill. This year we're featuring a Red Catuai varietal processed using the White Honey method, called San Francisco 1900. We enjoyed the cup quality and have always loved the quality focus that the Solis family demonstrates to us during our visits. This year, we were welcomed for two days - one on the farm and one at the mill - to experience hands on what the production looks like for both of those platforms. The "1900" in the name is part of the farm name, referring to the altitude.
Pulcal
(Maria Zelaya Aguirre, Guatemala, Filter)
One evening at a farm in Guatemala, we were all of a sudden rushed out the door in between tables to tour a farm before the sun set. I didn't understand the urgency, but it turned into a very memorable trip. We pulled into Pulcal (Carmona de Pulcal, for full) and were immediately greeted by an amazing canopy of old growth trees which seemed to stretch to the sky, we passed dozens of cows and finally stopped when we reached a beautiful, old home. We welcomed ourselves in, being led by Luis Pedro, and soon found ourselves in a dining room, with his Aunt Maria and her guests, eating cookies and coffee. At the end of a long dining table sat a coffee legend, George Howell, his wife Laurie, and Chris, a gentleman from their roasterie. Pulcal is a new offering this year from Rosso, and is a very classy coffee. The type that you want to drink on a confident morning. It has depth, and lots of complexity. It's a timeless flavour, like the first bite of a blackforest cake. Layers of chocolate, and cherry cola define the flavour in Pulcal. Elevation: 1650 - 1750m.
Tipping Point
(Blend, Filter/Espresso)
This blended coffee is chocolaty, nutty, and smooth. This coffee sees a little more development in the roaster to minimize the acidity, hone in on the body and act like a warm hug. Our current offering for Tipping Point is a coffee from El Progreso, Guatemala. This is a small micro-region just outside of Antigua, with slightly higher altitude. The farm is called Santa Ana la Huerta, and this is the second year we've purchased coffee from Rony, the proprietor. Tasting notes: Dark Chocolate, Mixed Nuts, Smooth
Late Night Decaf
(Blend, Decaf/Filter/Espresso)
Nothing about this coffee gives away the fact that it's a decaf. Its flavor is full, its body is round and it's a surprise time and time again. Our current decaf is a blend of two Costa Rican Co-op coffees from La Pastora Tarrazu and Ateneo in Valle Central. We're always thrilled to have a decaf that is thought provoking, filled with character and truly enjoyable sip after sip. This offering has come to us from the team at Swiss Water Process. In the cup, you can expect a rich body, clean acidity and sweet toasted marshmallow upfront. Easy to drink any time of day, and of course it wont keep you up all night. If you want to learn more about Swiss Water Processing, and the impressive art of decaffeination, check out the video here.