Why we think e-bikes are something everyone should experience.
JANUARY 20, 2023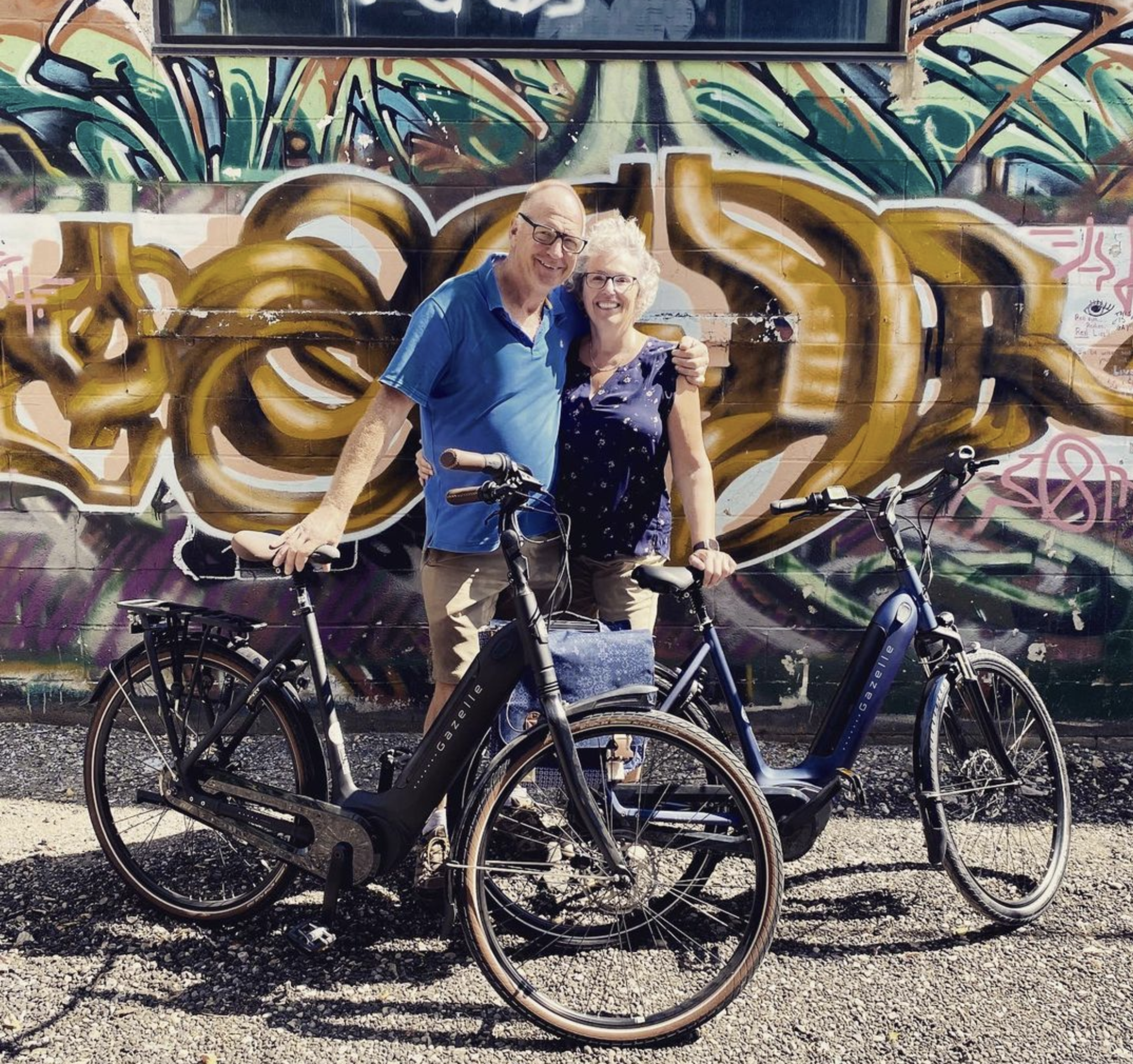 How to Put the E-Bike Experience Into Words?
I've been trying to put together an e-bike blog post for months, but have utterly failed to craft something that describes the feeling of pushing off with an enormous cargo load, effortlessly. Or the feeling of getting up on a cold winter morning and being at work before most people have their cars brushed off. Or on that hot summer day, cruising uphill without breaking a sweat. I realized when I was trying to write about the bikes, that the technical details don't matter, the magic is entirely in the experience. So that's what I'm going to write about. Here's an e-bike story, and why you should try one this year. Technical details and FAQ about e-bikes are at the bottom if you want to skip ahead.
My First E-Bike Experience
I tried my first e-bike in 2015. I was taking a sabbatical year from science, and my friend convinced me to work for a travel company called "Backroads" that led bike trips between Banff and Jasper. All the Canadian guides traveled to Salt Lake City for two weeks of training before the season started, and I remember trying one of the e-bikes in the warehouse parking lot. "Wow that was amazing," I thought, and could see why the company was offering these bikes as upgrades in their sales packages (in 2016 they made choosing an e-bike free). They were on to something. People who couldn't imagine riding 300 km between two mountain towns all of a sudden had the ability to do it, too. Spouses and kids of "serious riders" could also participate in these trips in ways that wouldn't be possible or enjoyable otherwise. E-bikes flattened mountains, and nowhere was that more clear to me than climbing literal mountains in Banff. I remember taking one out for a "light spin up a mountain pass" after the guests had returned for the night and wow I'd never had so much fun climbing! I realized in that moment that E-bikes enable people to ride more, AND they're incredibly fun. What could be better than that?
There are many days that I'm not sure why I left this job
My First E-Bike
I bought my first e-bike in 2018. We'd used a non-electric (or, 'acoustic') Babboe City for store errands, but it became really clear that any kind of hill made carrying a load challenging. The first year's staff picnic I hauled that bike up Blackfriars hill on the TVP, and still don't know how I made it without dismounting. We needed more mobility, and the Larry vs Harry e-Bullitt was the solution. The e-Bullitt was magic as a shop bike. I could carry anything, and go anywhere without excuses. It became my favourite way to get anywhere, too. Even in the depths of winter, I could pick up a load of milk, grab the bakery order, and make a stop at the post office, and I'd still get to work faster than my neighbours who drove or took the bus. The electric assist made winter easy to handle: whether there was lots of snow that needed extra energy to get through, or if it was a little colder and I needed to turn down the assist to stay warm, the little motor on a big bike delivered everything I could have hoped for. One day in the fall, I rode to St. Thomas to meet with Member of Parliament Karen Vecchio, where we chatted about the transformative power of the bicycle, and why Canada needs a national cycling strategy (which was finally announced). As I cruised back into the city (on a single charge, of course), I realized that on a hot fall day, I wasn't sweating at all. I was exercising, sure, but the warm breeze and little boost kept me feeling like myself. My bike had become a mobility tool for the store, and had the ability to share its story with the city and region, too.
Karen and I had some fun chatting about bikes!
London Bicycle Cafe's First E-Bikes
In 2019, we picked a brand of personal e-bikes that complemented our e-cargo and e-utility bike lineup. Royal Dutch Gazelle has been making transportation focused bikes in The Netherlands since the 1800s, and their e-bike lineup offers something for everyone. Their bikes are built to the highest quality standards, and reflect the needs of people who want to get from A-B without any concerns (watch the video below to see what I mean). We had some incredible early adopters (Joy and Chris come to mind) who jumped on the four-season e-bike bandwagon, and showed us that it can be fun and comfortable to navigate this city by bike in the winter. Their e-bikes with a set of studded tires perform better than any other vehicle out there (now we just have to work on getting our main network of river paths plowed!). While others are hibernating, you're enjoying the outdoors every day. Just like the Dutch.
What is the Future of E-Bikes?
Heading into 2023, I don't have any truly novel insight into the fastest growing segment of the transportation market (more than twice as many e-bikes were sold in North America last year compared to electric cars). The only thing I have to contribute is an offer for you to try one. Because it's not until you take that first magical pedal stroke, when you feel the shining sun on your face, the flattened hills, and calmed headwinds, that you'll understand that e-bikes are going to change your world (and "the" world) for the better.
Here's the technical stuff in a nutshell:
What is an e-bike? Any bicycle (or tricycle!) that has a motor and a battery designed to help make pedaling easier.

Bikes with mid-drive motors from Bosch/Shimano are current state of the art. Whether they are personal commuters, family transport, or cargo moving machines, they're all built on the same platforms. The mid-drive motor is where the magic really happens: sensors measure your pedaling, and the drive units deliver incredible, seamless assistance that make you feel like your favourite superhero. Caroline is the Hulk. I am Batman. Watch this video if you want to learn more!

But what about those bikes with a motor in the wheel? Hub drive is an older technology that isn't as robust or capable as mid-drive. Especially for bikes designed for transportation. Hub motors do have some applications for accessibility because you can add a throttle. However, they add unnecessary complexity and maintenance issues compared to mid-drive, and don't perform nearly as well, either. For the purposes of carrying load (as in cargo applications) they're poorly suited to the task, acting more like a rabbit pulling a sled than a draft horse pulling your family carriage.

What about safety? E-bike we sell meet the highest UL standards for battery safety. Learn more here. 

How far can I go before needing to recharge? You can go between 60 - 240 km on a single battery charge, depending on the bike style, payload, and conditions. A battery for an e-bike uses only ~1% of the rare materials, and generates <1% of the waste when compared to an electric car battery. A year's worth of electricity for your e-bike costs less than a latte, too.

How fast can I go? E-bikes in Canada can be assisted up to 32 km/h (20 mph). This means you can pedal the bike faster up to 32 km/h with assistance, but the motor cuts out if you want to pedal faster. In Europe, motors are limited to 25 km/h, which is a much more comfortable speed for mixing with assisted cycles, and allows for longer battery life.

These bikes are expensive, are they built to last? Unlike companies that exclusively sell online, e-bikes from your LBS offer warranties and support for your transportation investment. A typical warranty for a Bosch-based E-Bike: 2 years on bike components (excluding things designed to wear, like brake pads), 2 years battery and motor, 10 years on frame. Replacement parts are easy to come by, and are stocked by most bike stores.

What about theft? How do I secure my ride? Good quality locks are important, but more important is insurance. Insurance is typically provided through your home policy: talk to your broker to ensure you have enough coverage (usually in the ballpark of $10/month).

Do you offer financing? Most definitely. Inquire in-store for exact details and credit approval. You can finance a brand new Gazelle e-bike for less than $80/month (which is less than you're paying for car insurance or a transit pass).

How can I try one? Shop online then book an appointment to schedule your test ride! See you soon!