Riding a bicycle should not require bravery. Yet, all too often, that is the perception among cyclists and non-cyclists alike.
- Roger Geller, Bicycle Coordinator Portland (OR) Office of Transportation
Think about the word "cyclist." What comes to mind? Someone in spandex riding a fancy road bike? A bearded hipster in skinny jeans and a lumberjack shirt? Maybe a homeless man collecting bottles? What about the girls that live on your street and bike a few blocks to their elementary school every day? What about you? What kind of cyclist are you?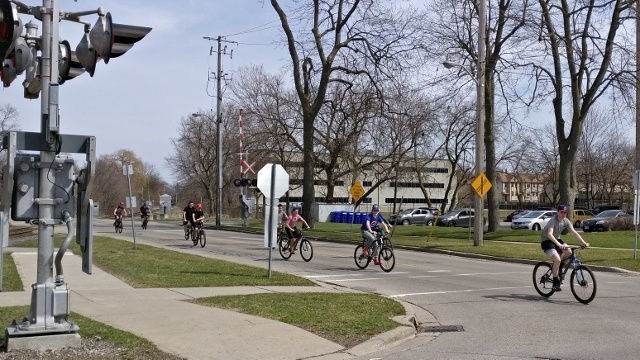 A few years ago, a team from Portland, Oregon set out with a simple question: can we measure people's relationships with a bicycle to help plan our cities? What they found is that people can be classified into four major groups. I've broken down the core of the idea below. Which group best represents you?
The Four Types of Transportation Cyclist
Strong and Fearless. You ride anywhere, anytime. You're comfortable and maybe even excited by the idea of riding on busy streets, and you consider your bike to be an essential part of who you are. You might build bikes in your spare time. You may have a future career as a bike messenger.
Enthusiastic and Confident. You feel confident riding on most streets, but prefer to ride in a bike lane when one is available. You like getting around the city by bike, you likely have a bike or two in your home, and probably know something about repairing a bike.
Interested but Concerned. You're curious about bikes. You hear it's a safe and fun way to get around, but you have concerns. Sharing the road with cars feels dangerous, and your bike might have a flat tire and a rusty chain. You sometimes venture out on the pathways on a lazy Sunday afternoon, but wouldn't normally jump on your bike to pick up a few groceries. If there were safe spaces to ride, you'd probably ride your bike more often, but riding in traffic doesn't suit you well.
No way, no how. You just aren't interested in biking for a variety of reasons. Traffic, hills, winter, or maybe you never learned how to ride a bike. You probably don't have access to a bike in your home.
What they found was astonishing because it turned out that people in Portland are just like people in Minneapolis, Calgary, New York, and every other city in North America where data has been collected. While we haven't done a proper survey for London yet, odds are good that London is the same as all the other cities. Here's why it's important: in almost every city where citizens have been surveyed about their preferences, the breakdown looks like this: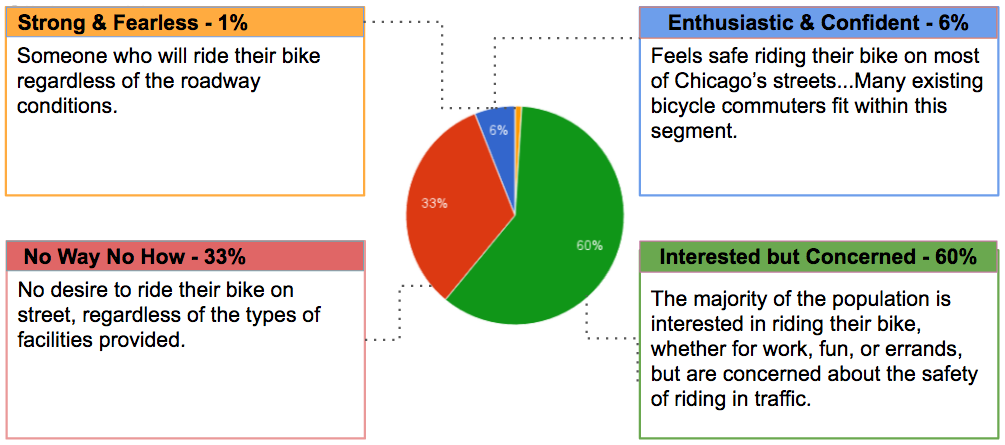 A survey of Chicago's residents show that 60% of the population wants to ride a bike more often. Every city in North America has seen similar results: considerably more than half of the population wants to ride more often.
What this tells us is that most people who want to ride a bike don't, or won't. That's a shame, but it's understandable. Riding with motor vehicles is scary, and our streets have been prioritized exclusively for cars for more than a century. Fortunately we know how to fix the problem with better street design. Cycletracks provide safe spaces to ride for everyone, especially those who are "Interested but Concerned," and London has a couple cycletracks planned for this summer. In cities that have installed cycletracks, "Interested but Concerned" riders have got on their bikes for the first time in a long time, and have started to live healthier, happier lives because getting around on a bike feels so good.
Check out Jess's first ride in 10 YEARS! The #yycbike cycletracks were prefect for her to get comfortable being back in the saddle. pic.twitter.com/47mVYjJ7zi

— Kev Shlaw (@itsakev) April 7, 2017
What type of cyclist are you? What would it take for you to ride your bike more often. Write us in the comments, tweet us, or send us an email. We'd love to hear from you!
ps - There are a few long reports about it that you can read here, and here if you're more interested in the cycling classifications. We promise this won't be the last we write about how different people view their bikes in the city.