Yes, we fix bikes too!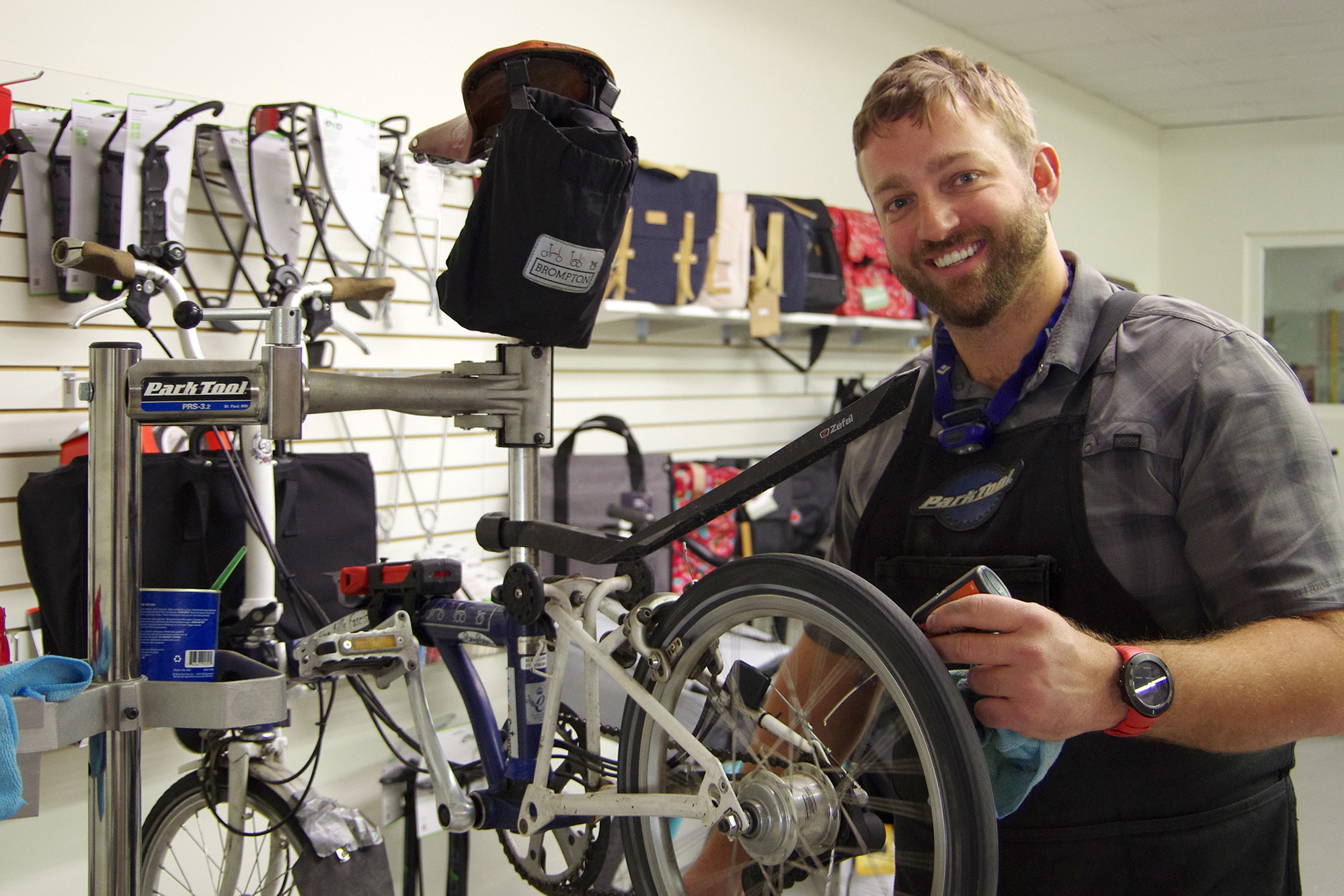 "Do you do repairs?" We hear that question all the time. Sometimes people are surprised that we do everything a regular bike shop does. Maybe it's the delicious coffee aromas overpowering the greasy smell that some bike shops accumulate? Maybe it's that our repair shop is tucked into the back room, so it's not very visible? Maybe we just don't look like bike mechanics? To answer your question succinctly: yes we do repairs, and we do them well. Our focus in the repair shop is on quality, like everything else we do. We work on all bikes, of all styles, and while we specialize in city bikes, Brompton folding bikes, and cargo bikes, we're happy to take care of your fat bike, road bike, or mountain bike, too. 
Who does the work? Ben has been working on bikes for a long time, and earned top grades from the Winterborne Institute in Guelph (one of the top-three training centres in North America) while obtaining his professional bike mechanic certificate. He also has a PhD in Isotope Geochemistry, and spent a good amount of that time tinkering and building complicated instruments in a lab, so he knows a few things about good practices when doing repair work. We have the specialty tools needed for almost any job, and a friendly attitude toward getting your bike back humming smoothly. We'll get you rolling with the right parts and easy advice, without trying to sell you things that you don't need or want, and answer any questions you have about the service. Riding a bike is supposed to be easy, and fun: we want to extend that experience to maintaining your ride, too. 
We offer two ways to get your bike serviced: walk-in, or scheduled. Both give the same friendly service, so you can choose the way that's right for you!   
#1 - Bring your bike into the shop

The good old-fashioned way to get your bike serviced. Bring your bike down to see us, we'll chat about your needs, and we'll give you an estimate for cost. We'll place the bike in our service queue and call you when it's done. Usually this takes a couple days, but depending on how busy we are, you might sneak in sooner than that. One customer happened to catch us this past Friday afternoon, and since we were ahead of schedule for the day, we were able to do the work while she sipped her latte. 
We recommend larger jobs to be done with an estimate, especially if you need new parts that we might not have in stock. If your bike needs more than a little TLC, or you're looking for a special set of new tires that we might not carry, bring your bike in to see us first. 
Flat tires and new chains are services that are always done "while you wait" - no need to schedule. And coffee is on us when you get a flat - we hope that put a smile back on your face, because nothing is worse for your mood than a flat tire. 
#2 - Schedule your service online
This is new and exciting! You can now schedule same-day appointments with us for regular tuneups! This means on the day you're scheduled for service, bring your bike to us in the morning (or the evening before your appointment), and it will be done for you in the afternoon! We guarantee the work is done by the time we close, or your next tuneup will be free! We get it: your bike is how you get around, and not having it available for a few days can limit your mobility. Our scheduled service lets you get in and out quickly, without sacrificing your favourite mode of transportation. 
Scheduling online is fast and easy, choose your type of service, (we recommend our Regular Service for most people's spring tuneup: getting your wheels trued helps your braking, rolling, and longevity of your bike), choose your extras (like a bike wash, hub service, or registering your bike for theft-prevention with London's Bike Registry Service), and choose the date that works best for you! Then bring your bike in on that day, and we'll have it running smoothly again in no time. 
All the prices listed in our online system include HST, so what you see is what you pay. You can even pay through the online system, so if you wanted to book an appointment for a friend, or send the gift of bike-love to your niece who attends Western or Fanshawe, you can get in/out without any hassle on the day of your appointment. We hope this is a service you come to love, and hope that it helps you choose to ride your bike more often. 
Bike repair two ways: whether you choose our online scheduler, or the classic first-come-first-served, we're going to do our best to keep you rolling smoothly this spring!